The Sustainable Homestead: Create a Thriving Permaculture Ecosystem with Your Garden, Animals, and Land (Paperback)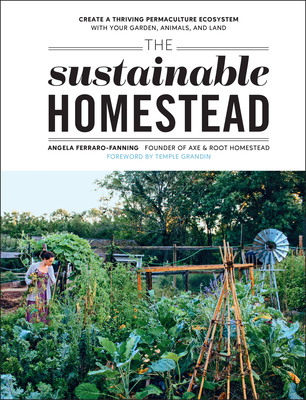 $25.00

Usually Ships in 1-5 Days
Description
---
Join the permaculture revolution! Author Angela Ferraro-Fanning (Axe & Root Homestead) shares techniques and tips for a homestead with synergy between soil, plants, animals, and trees.
If you're like most homesteaders, the dream is to
make the most of your land by working with it, not against it
. From
capturing water and building strong soil to helping your animals live their best lives
,
The Sustainable Homestead
is about making your homestead stronger by
achieving synergy
between what can seem like different parts.
In this book, new and veteran homesteaders alike can find
detailed information to put to use
this year, this month, even this week! Angela—also the co-host of the
HOMESTEADucation
podcast and author of the Little Homesteader/Little Country Cottage series of children's books—has spent more than a decade building and strengthening her small acreage homestead and shares the lessons chapter by chapter:  
Site Selection: Evaluate the elements, water flow and management, wildlife considerations, effective layouts, land elevation, water access points, permaculture zones, considerations based on acreage, how to remedy site shortcomings
Soil: The importance of soil, symptoms of poor soil, synthetics, water and erosion, healthier crops and animals, how to regenerate soil, cover crops, no-till method, perennial plantings
Growing: Catching and storing water with swales, catchment ponds, and rain barrels; sunlight and garden design including mandala, terrace, and forest; plant choices; companion planting; holistic pest management including cultural, physical, and biological options
Pasture: Design considerations, cover cropping, grazing, animal compatibility, pasture rotation, closed-loop grazing systems, maintenance, solar fencing
Animals: Chickens, ducks, geese, turkeys, and the sustainable coop; sheep, goats, pigs, and sustainable living quarters; horses, cows, donkeys, and sustainable stable; natural remedies; livestock guardian dogs and barn cats
Compost: What is compost?, hot vs. cold, decomposition and carbon to nitrogen ratios, creating a composting system, tier considerations, access and rotation, uses of compost, compost tea
Overstory: Nut trees and permaculture contributions, pollinator groups, fruiting trees, planting in guilds, pest management, tree health
Wherever you want to start first, follow along and make your homestead
more resilient by making it more sustainable
. 
About the Author
---
Angela Ferraro-Fanning is a self-taught first-generation farmer who built Axe & Root Homestead, a six-acre farm in central New Jersey. Originally a graphic and website designer by trade, she owned and operated her own design firm for over a decade. After the birth of her first child, she realized she wanted to be outdoors, aligning her life with the seasons and with nature. She now grows and preserves her own homegrown produce for her young family and runs a farm bustling with Clydesdales, geese and ducks for eggs, an apiary with ten beehives, sheep, and a small orchard. She shares this love for eco-conscious, self-sufficient living with others through social media as @axeandroothomestead, her books and online homesteading classes, public speaking, and regular contributions to publications such as Countryside Magazine, Backyard Beekeeping, and Backyard Poultry Magazines.