The Vegetable Garden Pest Handbook: Identify and Solve Common Pest Problems on Edible Plants - All Natural Solutions! (Paperback)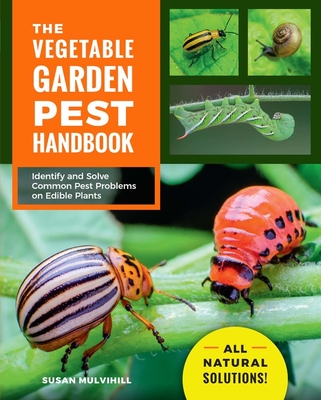 Description
---
In The Vegetable Garden Pest Handbook, you'll find the simple, straightforward resources and tools you need to identify common pests of edible gardens and manage them without the use of synthetic chemical pesticides.
Climate change and newly introduced
insect pests
are changing the world of gardening. Pests that once produced a single generation per year are now producing two or even three, and accidentally imported pest insects have no natural predators to keep them in check. These leaf-munching critters can cause significant damage in short order,
reducing your yields and costing you time and money
, especially if your garden is out of balance or your plants are stressed and vulnerable.
Whether you're a new or seasoned gardener, author and garden pro Susan Mulvihill shows you
how to handle pest issues by growing healthier plants
,
properly identifying the culprit
, and
nurturing the overall ecosystem of the garden
. With easy-to-use charts, you'll learn how to
identify common vegetable garden pests
based on both the damage they cause and their physical appearance.
DIY pest-control projects
, coupled with up-to-date info on
the best natural products
,
physical pest-control tricks
, and tips for
managing pests with the use of traps and barriers
, all lead to a garden where beneficial insects and pollinators are preserved while pest populations are kept in check.
Learn how to:
Get rid of squash bugs with minimal effort
Screen out root maggots 
Keep cutworms at bay
Nurture the good bugs that help control tomato hornworms
Tackle an infestation of mites, thrips, or whiteflies
Send cucumber beetles packing
Limit cabbage worms with a simple, inexpensive trick
Learn about the best earth-friendly product controls for home vegetable gardeners
Identifying and controlling common vegetable garden pests
has never been a favorite task of gardeners, but with Susan's help, positive results are easier than you think!
About the Author
---
Susan Mulvihill is a long-time garden columnist with The Spokesman-Review, a Master Gardener, and author of the blog, Susan's in the Garden. Susan and her husband, Bill, live in Spokane, Washington, where they tend five acres. Susan is known for her down-to-earth approach to teaching and writing that appeals to beginning and experienced gardeners alike. Her humor and enthusiasm for gardening are evident in the hundreds of how-to-garden videos found on her YouTube Channel. In 2019, Susan was the recipient of the Media Award given by the Master Gardener Foundation of Washington State.
Susan is passionate about vegetable gardening and following organic practices. She is co-author of Northwest Gardener's Handbook and author of The Vegetable Garden Pest Handbook. In addition to being a prolific writer, Susan is also a garden photographer.
Praise For…
---
"Finally, the book I've been waiting for! This may be the most practical guide ever written to help any environmentally conscious home gardener identify and manage pests! I especially love that it provides clues to the culprit by the damage they cause and covers a concise listing of all the most common natural and organic control options currently available. Consider this a must-have resource and keep it handy. You will be referring to this often!"—Joe Lamp'l, Creator and Host of the Emmy Award-winning national public television series, Growing a Greener World® and Founder of the Online Gardening Academy™ and joegardener.com"

"There's no such thing as a pest-free vegetable garden, but The Vegetable Garden Pest Handbook is the comprehensive guide you need to identify, prevent, and control garden pests." —Niki Jabbour, author of The Year-Round Vegetable Gardener and Growing Under Cover.

"Susan Mulvihill is a wonderful storyteller in writing about her long experience with growing vegetables. It's a pleasure to go on her journey. Along the way she profiles many insects and provides methods to control the one percent that are pests. The end result is a useful resource for gardeners."—Thomas J. Mickey, Author, America's Romance with the English Garden Cut

"Unlike other books on the topic, the pictures are just amazing along with important clues to help you in the process…a great refresher for experienced veggie gardeners and a must for those just starting out."
 
 —27East.com/The Hampton Gardener

"...anyone with an edible garden would find this book by Susan Mulvihill and indispensible reference."—American Gardener