The Betrayal Bond: Breaking Free of Exploitive Relationships (Paperback)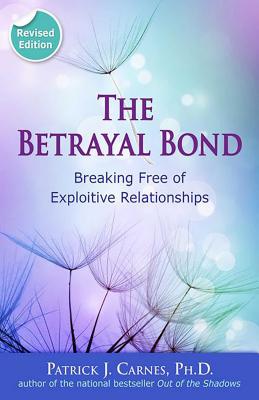 Description
---
Some really great books just keep getting better!
For seventeen years
The Betrayal Bond
has been the primary source for therapists and patients wrestling the effects of emotional pain and harm caused by exploitation from someone they trusted.
Divorce, litigation, incest and child abuse, domestic violence, kidnapping, professional exploitation and religious abuse are all areas of trauma bonding. These are situations and relationships of incredible intensity or importance lend themselves more easily to an exploitation of trust or power.
In
The Betrayal Bond
, Dr. Carnes presents an in-depth study of these relationships; why they form, who is most susceptible, and how they become so powerful. Dr. Carnes also gives a clear explanation of the bond that compels people to tolerate the intolerable, and for the first time, maps out the brain connection that makes being with hurtful people comparable to 'a drug of choice.' Most importantly, Carnes provides practical steps to identify compulsive attachment patterns and ultimately to change or end them for good.
This new edition includes:
New science for understanding how our brains can make a prison of bad relationships
New assessments and insights based on 50,000 research participants
A new section utilizing the latest findings in attachment research and narrative therapy to concretely rewrite and rescript bad experiences
A redefinition of the factors contributing to addictive relationships
About the Author
---
Patrick J. Carnes, Ph.D., is an internationally known authority on addiction and recovery issues. He has authored more than twenty books including the bestselling titles Out of the Shadows: Understanding Addiction Recovery, Don't Call It Love, and A Gentle Path Through the Twelve Steps. Dr. Carnes' research provides the architecture for the 'task model' of treating addictions that is used by thousands of therapists worldwide and many well-known treatment centers, residential facilities, and hospitals. He is the executive director of the Gentle Path Program, which specializes in dedicated treatment for sexual addiction. Visit Dr. Carnes at www.patrickcarnes.com.