Hollywood Heroine (Heroine Complex #5) (Paperback)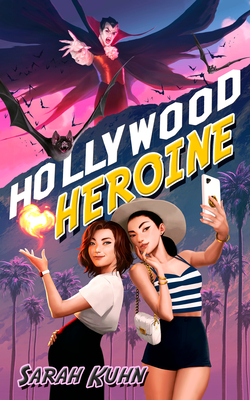 Other Books in Series
This is book number 5 in the Heroine Complex series.
Description
---
The fifth book in the smart, snarky, and action-packed Heroine series continues the adventures of Asian-American superheroines Evie Tanaka, Aveda Jupiter, and Bea Tanaka in a demon-infested San Francisco.

Over the years, the adventures of superheroines Aveda Jupiter and Evie Tanaka have become the stuff of legend--and now they'll be immortalized in their very own TV show!

The pair head to LA for filming, but Aveda struggles to get truly excited. Instead, she's preoccupied wondering about the fate of the world and her role in it. You know, the usual. Now that Otherworld activity has been detected outside the Bay Area, Aveda can't help but wonder if the demon threat will ever be eradicated.

When the drama on set takes a turn for the supernatural, Evie and Aveda must balance their celebrity commitments with donning their superhero capes again to investigate. And when the evil they battle reveals a larger, more nefarious plot, it's time for the indomitable Aveda Jupiter to rise to the occasion and become the leader she was meant to be on a more global scale--and hopefully keep some semblance of a personal life while doing so.
About the Author
---
Sarah Kuhn was a 2018 finalist for the Astounding Award, formerly the John W. Campbell Award. The first two books in her Heroine Complex series were 2016 and 2017 RT Reviewers' Choice Award nominees for Best Urban Fantasy. The first book was also a Locus bestseller and one of the Barnes & Noble Sci-Fi & Fantasy Blog's Best Books of 2016. Kuhn's YA debut, the Japan-set romantic comedy I Love You So Mochi, launched in summer 2019.
Praise For…
---
Praise for the Heroine Complex series:

"Sarah Kuhn creates characters you want to befriend, worlds you want to live in, and situations you can't begin to imagine. Heroine Complex is at once fiendishly snarky yet colossally big-hearted." —Javier Grillo-Marxuach, writer and producer for Lost, creator of The Middleman

"Sarah Kuhn's Heroine Complex is a delight." —Leigh Bardugo, New York Times-bestselling author of Ninth House

"Smart, sexy, and filled with beautifully fleshed-out/kick-ass women, Heroine Complex is the kind of read that sticks in your brain like a fanged cupcake.... I adored it." —Amber Benson, author of The Witches of Echo Park

"The superheroine we've been waiting for; the urban fantasy we deserve. Sarah Kuhn is the total package: comedy, tragedy, and sincerity. Grab your cape. We're saving the city."
—Seanan McGuire, New York Times-bestselling author of the October Daye series

"Kuhn imbues her books simultaneously with great humor and real, raw emotion.... And then she amps it all up with superpowers, demonic forces, and rampaging architectural features." —Cass Morris, author of From Unseen Fire

"Mixing fun superhero shenanigans with great teamwork and a well-developed (and hot) romance, Heroine Worship is a worthy sequel to one of my favorite books from last year." —Kirkus Reviews

"Decisively entertaining and deceptively complex.... Poignant scenes are interspersed with the high jinks fans of the series have come to expect, making this a hugely fun, yet intensely thoughtful take on superheroics and new adulthood." —Publishers Weekly (starred review)

"Annie's struggles to merge her kick-ass Aveda persona with her everyday Annie Chang tendencies can be hilariously slapstick, while her emotional growth provides its own tearjerker moments." —Library Journal

"An absolute blast. Aveda, Evie, & co. continue grow and develop while remaining San Francisco's premiere superlady team, and it's a ton of fun to see all of the characters we've come to know and adore from Bea's perspective." —BookRiot

"When it comes to superhero novels, Heroine's Journey might not be what you're expecting, but it's certainly what we might need these days. Heroine's Journey is probably the best so far, yours truly is excited to see where everyone goes next." —Culturess