Rise of the Demon (Kara Gillian #9) (Mass Market)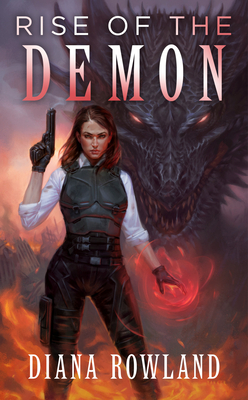 $8.99
Email or call for price
Other Books in Series
This is book number 9 in the Kara Gillian series.
Description
---
The long-awaited ninth book in the Demon series returns to the adventures of Kara Gillian and the supernatural threats that surround her

Kara's drastic ceasefire deal with the formidable demon Imperator Dekkak slowed the attacks on Earth to a trickle, but her troubles are far from over. The god-like demahnk are desperate to return to their own kind, but unless they can stabilize the demon realm, they'll be forever exiled—and they've subjugated Kara's beloved Mzatal to further their hellacious cause. One faction of demonic lords and demahnk has a plan to fix their world, yet their salvation would come at the expense of Earth.
 
Meanwhile, Kara is wrestling with government bureaucracy, backstabbing allies, enemy lords, as well as the powerful young demonic lord Ashava, who's packing the drama, angst, and rebellion of the terrible teen years into just a few months.
 
Kara's in a race to stop an apocalypse, but in order to prevail she'll have to make a terrible sacrifice or risk losing everything she holds dear.
About the Author
---
Diana Rowland has lived her entire life below the Mason-Dixon line. She has worked as a bartender, a blackjack dealer, a pit boss, a street cop, a detective, a computer forensics specialist, a crime scene investigator, and a morgue assistant, which means that she's seen more than her share of what humans can do to each other and to themselves. She won the marksmanship award in her Police Academy class, has a black belt in Hapkido, and has handled numerous dead bodies in various states of decomposition. A master of urban fantasy, she's the author of the Demon series and the White Trash Zombie series. She can be contacted via her website, www.dianarowland.com.
Praise For…
---
Praise for the Demon novels
 
"Mark of the Demon is a nifty combination of police procedural and urban fantasy. Not too many detectives summon demons in their basement for the fun of it, but Kara Gillian is not your average law enforcement officer."—Charlaine Harris, New York Times bestselling author of the Sookie Stackhouse novels
 
"Mark of the Demon is a fascinating mixture of a hard-boiled police procedural and gritty yet other-worldly urban fantasy." —L. E. Modesitt, Jr., author of the Saga of Recluce
 
"Crosses police procedure with weird magic. Diana Rowland's background makes her an expert in the former, and her writing convinces me she's also an expert in the latter." —Carrie Vaughn, New York Times bestselling author of the Kitty Norville series
 
"Rowland has done a fantastic job building her insanely complex world and making its multitude of inhabitants truly unforgettable. Rowland is an extraordinary storyteller!" —RT Reviews (top pick)