Deceiver (Foreigner #11) (Mass Market)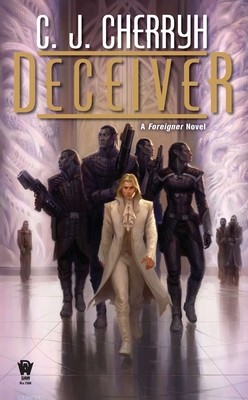 $7.99

Usually Ships in 1-5 Days
Other Books in Series
This is book number 11 in the Foreigner series.
Description
---
The eleventh novel in Cherryh's Foreigner space opera series, a groundbreaking tale of first contact and its consequences…

The civil war among the alien Atevi has ended. Tabini-aiji, powerful ruler of the Western Association, along with Cajeiri, his son and heir, has returned to the Bujavid, his seat of power. But factions that remain loyal to the opposition are still present, and the danger these rebels pose is far from over.

Bren Cameron, the brilliant human diplomat allied with Tabini, has graciously chosen to visit Najida, his country estate on the west coast. He feels that the political tensions in the capital might ease if he is not present, and after two years in space, he relishes the peace and tranquility his lovely coastal home affords.

But peace and tranquility are not in the cards for Bren.

Desperate for freedom and adventure, disregarding the obvious danger, Cajieri, Tabini's young son, escapes the tightly guarded capital with his bodyguards and arrives to surprise Bren in the country. But he is not the only surprise guest, for Ilisidi, the aiji-dowager, Tabini's wily and powerful grandmother, has been dispatched to secure her great-grandson's safety.

However, Najida, formerly a safe haven, is no longer the sanctuary it once was. For a neighbor's estate—the ancestral home of Lord Geigi, a close associate of Bren's—has been left without strong leadership. Lord Geigi now resides on and runs the atevi space station, and in his absence, rebel clans have infiltrated his home. When these rebels attack Bren, Cajieri, and the dowager, they have no choice but to recall Geigi from space.

With Lord Geigi, Ilisidi, Bren, and Cajieri all under one roof, they pose an irresistible target for the enemy. And Bren's pastoral retreat, now swarming with bodyguards, becomes a locked-down and armed fortress. These four individuals—three of the most powerful politicians on the planet, and the heir to the aiji—are not without their own resources. But can they overcome their adversaries and end this guerilla war that is the last vestige of revolution?
About the Author
---
C. J. Cherryh planned to write since the age of ten. When she was older, she learned to use a typewriter while triple-majoring in Classics, Latin, and Greek. With more than seventy books to her credit, and the winner of three Hugo Awards, she is one of the most prolific and highly respected authors in the science fiction field. Cherryh was recently named a Damon Knight Memorial Grand Master by the Science Fiction Writers of America. She lives in Washington state. She can be found at cherryh.com.
Praise For…
---
Praise for the Foreigner series:

"C.J. Cherryh's splendid Foreigner series remains at the top of my must-keep-up reading list after two decades." —Locus

"This is the kind of anthropological SF of which [Cherryh] is an acknowledged master." —Booklist

"A seriously probing, thoughtful, intelligent piece of work, with more insight in half a dozen pages than most authors manage in half a thousand." —Kirkus Reviews

"One of the best long-running SF series in existence...Cherryh remains one of the most talented writers in the field." —Publishers Weekly

"This is one of the best science fiction series currently running….by this point, the series has turned into a complicated set of thrillers involving political and factional turmoil, as well as a close and detailed examination of the troubled interactions between human and alien cultures." —Strange Horizons 

"Cherryh plays her strongest suit in this exploration of human/alien contact, producing an incisive study-in-contrast of what it means to be human in a world where trust is nonexistent." —Library Journal

"A large new novel from C.J. Cherryh is always welcome. When it marks her return to the anthropological SF in which she has made such a name, it is a double pleasure. The ensuing story is not short on action, but stronger (like much of Cherryh's work) on world-building, exotic aliens, and characterization. Well up to Cherryh's usual high standard." —The Chicago Sun-Times

"[Cherryh] avoids any kind of slump with a quick-moving and immediately engaging plotline, and by balancing satisfying resolutions with plenty of promises and ominous portents that are sure to keep readers' appetites whetted." —RT Reviews

 "These are thinking man's reads with rich characters and worlds and fascinating interactions that stretch out over many generations." —SFFWorld

"Cherryh's forte is her handling of cross-cultural conflicts, which she does by tying her narrative to those things her point-of-view character would know, think, and feel."—SFRevu