When Giants Ruled the Sky: The Brief Reign and Tragic Demise of the American Rigid Airship (Hardcover)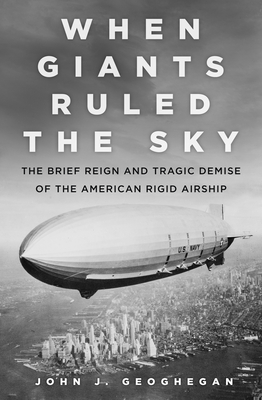 $39.95

Usually Ships in 1-5 Days
Description
---
Nearly everything people know about airships is wrong. Few realize that prior to the Hindenburg disaster airships transported passengers without a single casualty for more than 20 years, a record unmatched by any other form of transportation. When Giants Ruled the Sky tells the true but little-known story of the USS Macon (ZRS-5), the world's largest, most expensive and most technologically advanced airship of her day, and the four men responsible for conceiving, designing, building, and flying her. In doing so it reveals how the American airship came within a hair's breadth of replacing planes, trains, and ocean liners as the dominant form of long-distance transportation, and exactly what went wrong, a tale of physical courage, engineering acumen, ugly politicking and two egregious disasters.
About the Author
---
JOHN J. GEOGHEGAN began his career as a Special Correspondent for the New York Times. His first book, Operation Storm (Crown 2013), tells the story of a squadron of Japanese underwater aircraft carriers purpose-built to launch an aerial raid against the US as a follow up to Pearl Harbor. The Wall Street Journal called it 'a fascinating, meticulously researched, and deft account.' It has since been translated into Dutch and Japanese, published in paperback, and inspired a Channel Five documentary.
Praise For…
---
Totally captivating. A fascinating account of glory and tragedy that soars with suspense. I enjoyed the hell out of it!
-- Dirk Cussler  
When Giants Ruled the Sky examines the successes, problems and controversies of the American rigid airship program bringing the industrialists and engineers who designed and built them, and the officers and men who flew them, to life. No airship fancier's library should be without a copy.
-- Tom Crouch  
It's too often forgotten that for a few short years the U.S. Navy actually possessed flying aircraft carriers and the world's greatest airship fleet. In his latest book, John Geoghegan has performed sterling service in excavating the astounding story of the Akron and the Macon from the tomb of lost history.
-- Alexander Rose  
A well-researched history of the rigid airship "carrier" during the interwar years of U.S. naval aeronautics. A genuine contribution.
-- William Althoff
This extremely readable and gripping new account of the US Navy rigid airship programme and the demise of its giant flying aircraft carriers Akron and Macon, draws on fresh statements and personal accounts to tell the story through the eyes of those directly involved. The best book on the subject by far. -- Alastair Reid
The best book focused upon the USS Akron & Macon published in the last 55 years! -- C.P. Hall