Say No to Cancer: The Drug-free Guide to Preventing and Helping Fight Cancer (Paperback)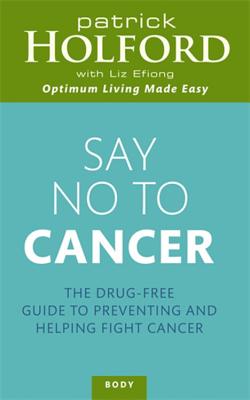 $19.99
Email or call for price
Description
---
Cancer is increasing at an alarming rate and one in three people will develop cancer at some point in their lives. According to the World Cancer Research Fund, up to 39 per cent of the most common cancers - lung, breast, colorectal, skin, mouth/throat and oesophagus, liver, stomach, prostate, cervical ovarian, testicular, endometrial and pancreatic - are preventable through diet, physical activity and weight control alone.

SAY NO TO CANCER was originally published by Piatkus in 1999 and this greatly expanded edition contains new chapters that reflect the very latest information on the connection between diet and lifestyle and the risk of developing cancer. It offers guidance for people who wish to avoid getting cancer, and for those who want to know what they can do nutritionally if they have cancer and/or want to prevent reoccurrence.

By improving your diet and taking the right nutritional supplements you really can say no to cancer.
About the Author
---
Patrick Holford is founder of the Institute for Optimum Nutrition in London. He is the author of over 30 health books. Liz Efiong is a nutritional therapist and is currently studying for her Masters in Nutrition Therapy, specialising in cancer.