The Little Book of History (Big Ideas) (Abridged / Paperback)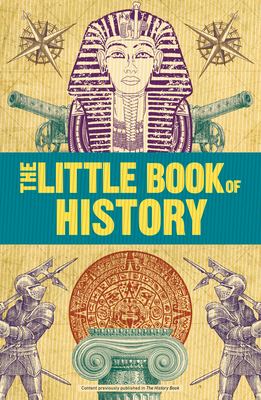 Description
---
Journey through time and explore more than 60 of the most important events in world history!

See the past come to life in the most spectacular way! From the beginning of civilization to the modern world, discover the perfect pocket-sized introduction to human history.

Inside the pages of this visual reference book, you'll find:

   • Bold illustrations and infographics that bring complex historical events to life
   • Clear, authoritative text that explains the underlying causes behind historical events, and how the events unfolded  
   • A lightweight, compact format that makes it ideal for vacation reading
   • Entries that are truly international in scope

Human history in your pocket

From the birth of Athenian democracy to the launch of Sputnik and the Global Financial Crisis, this informative little book provides you with an overview of the most fascinating events in history that shaped our world as we know it! Get to know some of the most important thinkers and leaders throughout history such as Napoleon, Julius Caesar, and Nelson Mandela.

Packed with infographics and flowcharts that explain complex concepts in a simple but exciting way, The Little Book of History is a modern twist on the good old-fashioned encyclopedia. It's perfect for holidaymakers looking to go beyond the standard beach read. 

Even more Little Books to discover

The Little Book of History series uses a combination of creative typography, bold infographics, and clear text to explore every area of a subject. For the perfect introduction to politics and political thought throughout history, look out for The Little Book of Politics. More titles in this series include The Little Book of Economics and The Little Book of Philosophy.
About the Author
---
We believe in the power of discovery. That's why we create books for everyone that explore ideas and nurture curiosity about the world we live in.
 
From first words to the Big Bang, from the wonders of nature to city adventures, you will find expert knowledge, hours of fun and endless inspiration in the pages of our books. 

https://www.dk.com/