Flip Flap Find Into The Woods (Board book)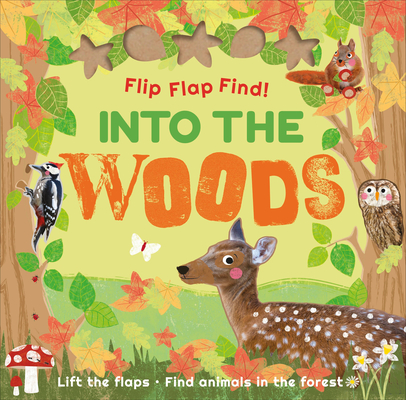 Description
---
Into the woods, we go! Who will we meet in the forest today? Look under the peek-through flaps and let's find out. 

Let your little nature lover take a wonderful woodland walk! Along the way, they'll discover adorable forest animals hiding under the flaps. This animal book for children aged 0 to 3 is perfect for making storytime fun!

Inside the pages of this lift-the-flap book, you'll discover:

   • Eye-catching novelty cover with pretty die-cut leaves
   • Interactive flaps hide fun surprises on almost every spread
   • Lyrical rhymes to read aloud, plus fun facts about nature and animals 
   • Lift-the-flap game rewards curiosity
   • High quality, hard-wearing board book with sturdy pages

Babies and toddlers will love exploring the forest through each season, finding all the hidden animals, and listening to the fun rhymes in this beautifully illustrated children's book. It's perfect for building your child's knowledge of the natural world.

From a woodpecker pecking the tree to a squirrel looking for hazelnuts, this entertaining baby board book introduces your child to the fun-filled lives of friendly forest animals. What's making that hooting sound in the darkness? Lift the peekaboo flaps and say hello to a big-eyed owl! What's making that rustling and scuffling sound in the undergrowth? Take a peek inside the pop-ups and discover a mommy deer and her fawn!

Packed with adorable animal illustrated, sturdy lift-the-flap pages, and entertaining animal characters, this educational book has been designed to encourage early learning. The fun, rhyming text is ideal for reading aloud and developing your child's vocabulary. Turning the pages and lifting the flaps help learn motor control for improved dexterity in toddlers. 

Lift-the-flap Fun! 

Flip Flap Find! Into the Woods is a captivating picture book to share. It provides lots of opportunities for parent-and-child interaction and hours of animal entertainment. It's a perfect preschool gift for children who adore nature! 

Complete the Series:

Encourage your child's curiosity with this lift-the-flap animal series from DK Books - perfect for curious toddlers who love nature! From insects and fishes to reptiles and birds, let your child discover and count a wonderful range of animals and their eggs in Flip, Flap, Find Counting 1, 2, 3.
About the Author
---
We believe in the power of discovery. That's why we create books for everyone that explore ideas and nurture curiosity about the world we live in.
 
From first words to the Big Bang, from the wonders of nature to city adventures, you will find expert knowledge, hours of fun and endless inspiration in the pages of our books.

https://www.dk.com/