Plain Language (Paperback)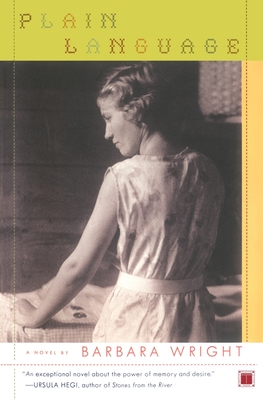 $21.99

Usually Ships in 1-5 Days
Description
---
Virginia Mendenhall, a Quaker from North Carolina, is thirty-three years old when she travels to the arid plains of eastern Colorado in the mid-1930s to marry Alfred Bowen, ten years her senior. They have met only twice and have come to love each other through letters. Now, on an isolated ranch in the Dust Bowl, they must adjust to the harsh ranching life and the dangers of an untamed landscape, as well as the differences between them.
With an extended drought worsening the impact of the Depression in the West, neighbors turn against neighbors, and secrets from Alfred and Virginia's pasts come back to haunt them. But it is the arrival of Virginia's troubled brother on the ranch that sets off a chain of events with life-and-death consequences for them all.
Plain Language is a beautifully told tale of a man and woman fighting against tremendous odds for their land -- and their love.
About the Author
---
Barbara Wright, a novelist and screenwriter, lives in Kansas City, Missour
Praise For…
---
Ursula Hegi
author of Stones from the River

An exceptional novel about the power of memory and desire.



Robert Morgan
Gap Creek and This Rock

Barbara Wright's novel is vivid, intense, memorable, told with Quaker plainness and depth, a story of courage, passion for the land, fierce loyalties and growth, enduring. It is an authentic addition to the literature, the poetry, of our West.


Art Corriveau
author of Housewrights

The West brought hauntingly to life. This human-scale love story of an unlikely family's struggle with love, loyalty, and loss seems all the more epic when set against the immense backdrop of Colorado prairie and sky.