Gearheads: The Turbulent Rise of Robotic Sports (Paperback)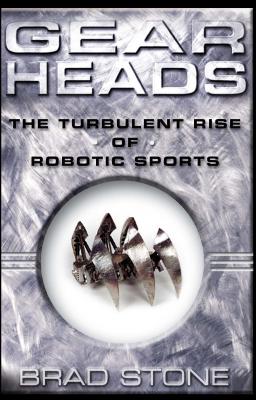 $19.99

Usually Ships in 1-5 Days
Description
---
In the early nineties, a visionary special-effects guru named Marc Thorpe conjured a field of dreams different from any the world had seen before: It would be framed by unbreakable plastic instead of cornstalks; populated not by ghostly ballplayers but by remote-controlled robots, armed to the steely teeth, fighting in a booby-trapped ring. If you built it, they'd come all right....
In Gearheads, Newsweek technology correspondent Brad Stone examines the history of robotic sports, from their cultish early years at universities and sci-fi conventions to today's televised extravaganzas -- and the turmoil that threatened the whole enterprise almost from the beginning.
By turns a lively historical narrative, a legal thriller, and an exploration of a cultural and technological phenomenon, Gearheads is a funny and fascinating look at the sport of the future today.
About the Author
---
Brad Stone is senior executive editor of global technology at Bloomberg News. He is the author of the New York Times bestseller The Everything Store: Jeff Bezos and the Age of Amazon, which has been translated into over thirty-five languages, and The Upstarts: Uber, Airbnb, and the Battle for the New Silicon Valley. He has covered Silicon Valley for more than twenty years and lives in the San Francisco Bay area.
Praise For…
---
Steven Levy author of Crypto and Hackers On one level, Gearheads is a book about robots -- fearsome, heavily armed, and in some cases questionably legal machines -- and the talented mechanical artists who build them. But Brad Stone has also written a moving narrative about dreams, and how they're dashed.

Will Wright robot builder and creator of the bestselling video games SimCity and The Sims This fascinating story not only chronicles the birth of a new sport, but also the explosive confrontation between its creator and his business partner. The violence of this struggle exceeds anything seen in the robot arena, but somehow a vibrant community manages to crystallize from the ashes.