The Innovation Paradox: The Success of Failure, the Failure of Success (Paperback)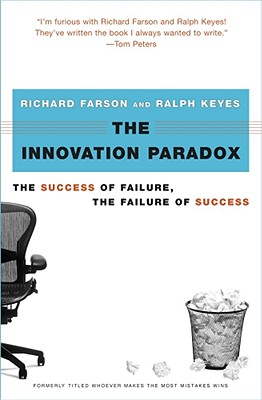 $12.95

Usually Ships in 1-5 Days
Description
---
In The Innovation Paradox, Richard Farson and Ralph Keyes argue that failure has its upside, success its downside. Both are steps toward achievement, and the two extremes are not as distinct as we imagine. In today's business economy, it's not success or failure -- it's success and failure that lead to genuine innovation. History's great innovators, from Thomas Edison and Charles Kettering to Bill Gates and Jack Welch, saw failure as an important stepping-stone -- and with this groundbreaking book, you too can learn how to become more failure tolerant, more risk friendly, and therefore more innovative. Today's most prominent businesspeople agree that The Innovation Paradox has the formula for failure and success down to a science,
Make no mistake: If you're looking to reinvent yourself, your ideas, or your business model, this book is your sure-fire way to start.
Praise For…
---
Tom Peters I'm furious with Richard Farson and Ralph Keyes! They've written the book I always wanted to write.
This is the best management book I've read since Farson's last one, and doubtless the best I'll read until his next one. He is the master. Move over Drucker.

Richard Pollak The Nation A welcome antidote to the numbing conventional wisdom about what constitutes corporate success and failure. It shows how to make the business environment both vital and humane.

Michael Murphy Author of Golf in the Kingdom Promises to become a classic in the genre of modern wisdom literature.

Jane Alexander Actress, author, and former Chairman, National Endowment for the Arts The authors make a clear case for understanding that failing precedes almost all great wins in our society....A valuable book for just about anyone in our competitive world.

Harlan Cleveland President Emeritus, World Academy of Art and Science Truth always seems to come in small paradoxical packages. This [one]...reveals the fusion of opposites as the essence of truth.