Ending the Vietnam War: A History of America's Involvement in and Extrication from the Vietnam War (Paperback)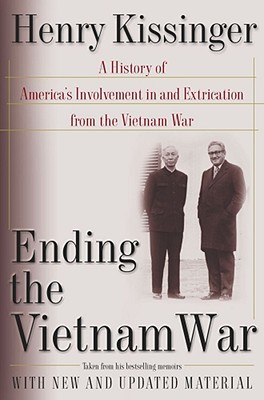 $38.95

Usually Ships in 1-5 Days
Description
---
Now, for the first time, Kissinger gives us in a single volume an in-depth, inside view of the Vietnam War, personally collected, annotated, revised, and updated from his bestselling memoirs and his book Diplomacy.

Many other authors have written about what they thought happened—or thought should have happened—in Vietnam, but it was Henry Kissinger who was there at the epicenter, involved in every decision from the long, frustrating negotiations with the North Vietnamese delegation to America's eventual extrication from the war.

Here, Kissinger writes with firm, precise knowledge, supported by meticulous documentation that includes his own memoranda to and replies from President Nixon. He tells about the tragedy of Cambodia, the collateral negotiations with the Soviet Union and the People's Republic of China, the disagreements within the Nixon and Ford administrations, the details of all negotiations in which he was involved, the domestic unrest and protest in the States, and the day-to-day military to diplomatic realities of the war as it reached the White House.

As compelling and exciting as Barbara Tuchman's The Guns of August, Ending the Vietnam War also reveals insights about the bigger-than-life personalities—Johnson, Nixon, de Gaulle, Ho Chi Minh, Brezhnev—who were caught up in a war that forever changed international relations. This is history on a grand scale, and a book of overwhelming importance to the public record.
About the Author
---
Henry Kissinger was the fifty-sixth Secretary of State. Born in Germany, Dr. Kissinger came to the United States in 1938 and was naturalized a US citizen in 1943. He served in the US Army in Europe in World War Two and attended Harvard University on a scholarship, where he later became a member of the faculty. Among the awards he has received are the Nobel Peace Prize, the Presidential Medal of Freedom, and the Medal of Liberty. He passed away in 2023 at the age of 100 at his home in Connecticut.