Take the Cannoli: Stories From the New World (Paperback)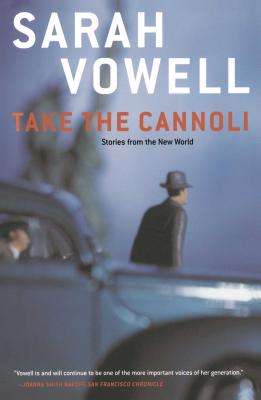 for information about purchasing this book, please contact orders@bookpassage.com
Description
---
A wickedly funny collection of personal essays from popular NPR personality Sarah Vowell.

Hailed by Newsweek as a "cranky stylist with talent to burn," Vowell has an irresistible voice -- caustic and sympathetic, insightful and double-edged -- that has attracted a loyal following for her magazine writing and radio monologues on This American Life.

While tackling subjects such as identity, politics, religion, art, and history, these autobiographical tales are written with a biting humor, placing Vowell solidly in the tradition of Mark Twain and Dorothy Parker. Vowell searches the streets of Hoboken for traces of the town's favorite son, Frank Sinatra. She goes under cover of heavy makeup in an investigation of goth culture, blasts cannonballs into a hillside on a father-daughter outing, and maps her family's haunted history on a road trip down the Trail of Tears.

Take the Cannoli is an eclectic tour of the New World, a collection of alternately hilarious and heartbreaking essays and autobiographical yarns.
About the Author
---
Sarah Vowell is a contributing editor for public radio's This American Life and has written for Time, Esquire, GQ, Spin, Salon, McSweeneys, The Village Voice, and the Los Angeles Times. She is the author of Radio On, Take the Cannoli, and The Partly Cloudy Patriot. She lives in New York City.
Praise For…
---
Susan Salter Reynolds Los Angeles Times Book Review Sarah Vowell is a madonna of Americana.

People Wise, witty and refreshingly warm-hearted, Vowell's essays on American history, pop culture and her own family reveal the bonds holding together a great, if occasionally weird, nation.

Melanie Rehak Harper's Bazaar Sarah Vowell's canny brand of humor, complaint, and cultural acuity will no doubt be heard for some time to come.

Joanna Smith Rakoff San Francisco Chronicle Vowell is and will continue to be one of the more important voices of her generation.