You Can Do This!: Surviving Breast Cancer Without Losing Your Sanity or Your Style (Paperback)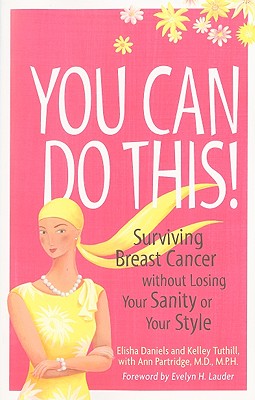 $12.99
Email or call for price
Description
---
Breast cancer survivors Kelley Tuthill and Elisha Daniels are redefining what it means to be a cancer patient. More than 200,000 women will be diagnosed with breast cancer each year, but that diagnosis does not mean sitting on the sidelines while life passes you by. Both Tuthill and Daniels worked throughout their extensive cancer treatments and continued to enjoy their family, friends, and high-profile careers while fighting the fight of their lives. You Can Do This! shares with you the strategies that worked, what didn't, and what they wish they'd have known at the time of diagnosis, namely to:

* Send a message to the world that you are healing, not dying. 

* Surround yourself with people who know how to make you feel better.

* Try to stick to your routine when possible. Go to work. Take the kids to school.

* Have a plan for what you will do at 2:00 a.m. if you cannot sleep.

* Keep wearing makeup and high heels. You dont have to look and feel like a patient all the time.

* Believe that you can beat this!

Benefiting from the expertise of Dr. Ann Partridge, an oncologist at the renowned Dana-Farber Cancer Institute in Boston who helped both of the authors through their own cancer journeys, this triumvirate answers questions like: Can you keep working? How do you pick out a wig or pencil in an eyebrow? What role might reconstruction surgery and prosthetics play in your recovery? What steps can you take to retain a professional, healthy image despite the effects of chemotherapy? How do you broach the subject of cancer with small children? Is it possible to lose your hair and not your sense of humor or libido?

Inside You Can Do This!, Tuthill and Daniels help the newly diagnosed patient work through the initial shock of diagnosis and move forward to face the coming challenges with courage, strength, grace, makeup, and high heels. By offering advice on looking your best, even when you no longer look or feel like yourself, Tuthill and Daniels emphasize that you can continue to lead an active life and that it's perfectly acceptable to research chemotherapy alongside the latest offerings from Chanel.
About the Author
---
 Elisha Daniels is the marketing director for Boston-based clothing design label Sara Campbell. She was diagnosed with breast cancer in 2006 and is cancer free today.