Bo Nanas: Monkey Meets World (Paperback)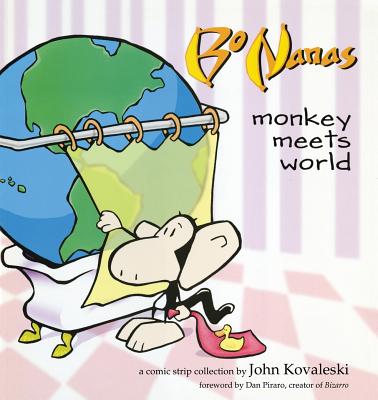 $18.99

Usually Ships in 1-5 Days
Description
---
""Monkeys are uniquely suited for cocktail parties. They are able to hold a beverage in one hand, hors d'oeuvres in the other, and greet fellow guests with their feet. And yet they get invited to surprisingly few cocktail parties.""-Bo Nanas
It's a jungle out there, so . . . bring your copy of Bo Nanas: Monkey Meets World. This hilarious collection of comic strips chronicle the adventures of Bo Nanas, a three-foot-tall talking monkey, who swings through life with wit and a gentle perspective. Tackling whatever life throws him-be it strange jobs, weird relationships, or even genetically engineered bananas-our hero maintains a wry sense of humor. As Bo handles everything from annoying cell phone users to teething babies, readers are sure to see a bit of their own lives in this boldly drawn, prize-winning comic strip.
Who, for example, hasn't tried to do an act of kindness only to have it blow up in their face? Bo spies a sad little puppy tied up in a yard and decides to treat him to a day of movies and amusement parks only to find himself in the back of a police car for his troubles. Work can also be a challenge. When Bo takes an office job he finds himself to be the only available male in the building and thus the center of attention for a bevy of single female coworkers, sizing him up to see if he'll ""take to domestication.""
After winning the FineToon Fellowship in 2002, Bo Nanas began syndication in May 2003 through the Washington Writers Group. Bo Nanas: Monkey Meets World is a must have for anyone who loves monkey business.