Free for All Cooking: 150 Easy Gluten-Free, Allergy-Friendly Recipes the Whole Family Can Enjoy (Paperback)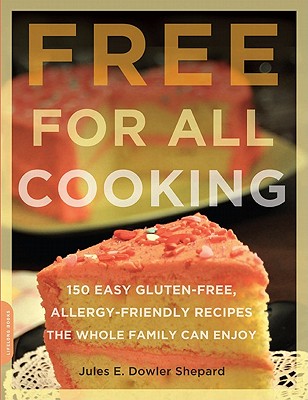 $21.99

Usually Ships in 1-5 Days
Description
---
Millions of people suffer from adverse reactions to food. Whether a food allergy, intolerance, or an autoimmune condition like celiac disease, the jury is in: More and more people are sensitive to something in their diets. Now, parents can rejoice—no longer do they need to prepare different meals for different family members based on individual food sensitivities.
In Free For All Cooking, gluten-free cooking expert Jules E. Dowler Shepard offers 125 easy and uncompromisingly delicious recipes that are free of major allergen ingredients, including gluten, dairy, nuts, soy, eggs, and more. Full of kid-friendly meals and desserts plus money-saving strategies, Free For All Cooking is an ideal resource for every kitchen.
About the Author
---
Jules E. Dowler Shepard has written two books on living with celiac disease and teaches gluten free cooking classes around the country. She contributes to Celiac.com and lives in Cantonville, Maryland.

Alessio Fasano, MD, is director of the University of Maryland's Center for Celiac Research.
Praise For…
---
Curled Up with a Good Book

"Parents of children with allergies will particularly love this cookbook. With classic kid-loved recipes such as chocolate chip cookies, fudge and hamburger and hotdog buns, you will be the hero once you master making these items…Its easy-to-follow instructions and helpful brand recommendations mean that even novice cooks can prepare yummy allergy-free foods. If you or someone you love has to cope with the challenge of cooking with allergy restrictions,
Free for All Cooking
is a must have to your (or their) cookbook collection."  
Living Without, February/March 2011
"Neatly organized, simply explained, Shepard makes tasty comfort food safe for almost anyone."
Cybelepascal.com, 1/13/11
"A homey collection of recipes…The Ingredients and Substitutions section is comprehensive and written in friendly, approachable language that even a brand new allergy-free cook can access. Of particular note, is the section titled 'Baking Notes,' chock-full of handy practical advice that comes from many years of expertise in the kitchen."
Technorati.com, 10/27/10
"Free for All Cooking is a must-have for those who can't eat everything, and those who cook for them."
Glutenfreeville.com, 10/31/10
"[A] versatile cookbook…Offers delicious gluten-free recipes that can also be made free of many major allergen ingredients—dairy, nuts, soy, eggs and more—to fit your unique dietary requirements." 
"Stuff I Like" blog, 11/7/10

"Whether you are figuring out the tricky aspects of baking with gluten-free flours, or wondering what to replace eggs and dairy products with, you'll find essential help in this comprehensive volume."
Tucson Citizen "What's Cooking" blog, 11/18/10
"This is an excellent cookbook, even if you don't have an allergy sufferer in the family."