Gemma and the Giant Girl (Hardcover)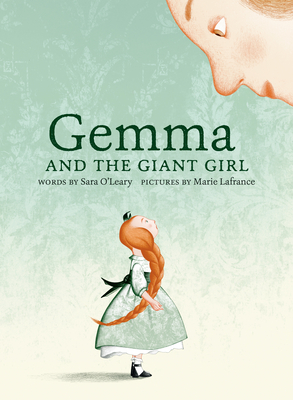 Description
---
An exquisite new picture book from the author of the beloved This Is Sadie about a little doll whose worldview is about to get a whole lot bigger.

Gemma has always lived in a very nice little house, always slept in the same room and always worn the same clothes. A doll in an old forgotten dollhouse, Gemma wonders if she will ever grow up, but her parents tell her she will always be their little girl. Until, one day, the dollhouse is opened by a GIANT, and Gemma's whole life changes. New things are introduced into the little house -- and Gemma finally has an opportunity to leave what's familiar and see the enormous world beyond.

A story that evokes children's classics, Gemma and the Giant Girl is a gorgeously illustrated and poignant tale of what it feels like to be small in a big world and how even the smallest among us can take charge of our own destinies.
About the Author
---
SARA O'LEARY is a writer of fiction for both adults and children. Her most recent picture books include Maud and Grand-Maud, Owls are Good at Keeping Secrets and the forthcoming This Is Ruby. Sara's picture book This Is Sadie was adapted by the New York City Children's Theatre. Her adult novel A Ghost in the House was published by Doubleday Canada. A graduate of the UBC Creative Writing Program, she has taught screenwriting and writing for children at Concordia University in Montreal.

MARIE LAFRANCE studied Graphic Arts and Etching, worked as a printmaker in San Francisco and New York, and eventually started illustrating, a career which is not really a career as much as a lifestyle, so she basically lives in her studio, cooking up characters and trying to give graphic life to authors' great stories. In the past twenty years, Marie has been illustrating mostly children's books and now serves on the board of the Association des Illustrateurs et Illustratrices du Quebec (AIIQ), where she is also a part-president. Her work was nominated three times for the Governor General's Literary Award, and she won the Ruth and Sylvia Schwartz Children's Book Award for A Hen for Izzy Pippik, which was also a Bank Street Best Children's Book of the Year. Marie lives in Montreal, Quebec, with her family.
Praise For…
---
"In this cozy, domestic setting, O'Leary explores what happens as the mind takes in new information that expands one's world." —Publishers Weekly

"Sara O'Leary's empathetic text, and Marie Lafrance's imaginative pictures, transport young readers to Gemma's world from outside in and inside out. . . . [A] gentle exploration of childhood." —Imaginary Elevators

"Four stars." —Library Matters

"[A] delightful tale, one that is sure to be a favorite for many." —Story Monsters Ink