The Paragon Hotel (Paperback)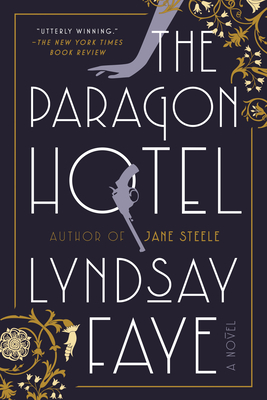 January 2019 Indie Next List
---
"Good gracious. I just adore all things written by Lyndsay Faye. Like her glorious Gods of Gotham series,The Paragon Hotel is a clever, fast-paced read with a unique ensemble of characters. Set during the Prohibition era, the novel bounces between the mafia-ridden streets of Harlem and the racially tense community of Portland, Oregon. Steeped in historical detail, The Paragon Hotel is wickedly smart and wholly entertaining. Faye has given readers another deviously delicious story."
— Anderson McKean, Page and Palette, Fairhope, AL
Winter 2019 Reading Group Indie Next List
---
"This is writing that zings with an electric liveliness, capturing pitch perfect the 'anything goes' attitude of the 1920s. Alice James flees New York City with a bullet wound in her side, hopping the first train west, trying to cover as much ground as possible to get away from her potential pursuers. The wound is serious, her condition deteriorating, and perhaps would be fatal if not for the kindness of Max, a black Pullman porter who risks taking a white woman to the all-black Paragon Hotel. A page-turning romp of a book that wildly entertains while also illuminating the less savory aspects of Oregon's early history."
— Deon Stonehouse, Sunriver Books & Music, Sunriver, OR
Description
---
A gun moll with a knack for disappearing flees from Prohibition-era Harlem to Portland's Paragon Hotel.

The year is 1921, and "Nobody" Alice James has just arrived in Oregon with a bullet wound, a lifetime's experience battling the New York Mafia, and fifty thousand dollars in illicit cash. She befriends Max, a black Pullman porter who reminds her achingly of home and who saves Alice by leading her to the Paragon Hotel. But her unlikely sanctuary turns out to be an all-black hotel in a Jim Crow city, and its lodgers seem unduly terrified of a white woman on the premises.

As she meets the churlish Dr. Pendleton, the stately Mavereen, and the club chanteuse Blossom Fontaine, she understands their dread. The Ku Klux Klan has arrived in Portland in fearful numbers--burning crosses, electing officials, infiltrating newspapers, and brutalizing blacks. And only Alice and her new Paragon "family" are searching for a missing mulatto child who has mysteriously vanished into the woods. To untangle the web of lies and misdeeds around her, Alice will have to answer for her own past, too.

A richly imagined novel starring two indomitable heroines, The Paragon Hotel at once plumbs the darkest parts of America's past and the most redemptive facets of humanity. From international-bestselling, multi-award-nominated writer Lyndsay Faye, it's a masterwork of historical suspense.
About the Author
---
Lyndsay Faye is the author of five critically acclaimed books: Jane Steele, which was nominated for an Edgar for Best Novel; Dust and Shadow; The Gods of Gotham; also Edgar-nominated; Seven for a Secret; and The Fatal Flame. Faye, a true New Yorker in the sense she was born elsewhere, lives in New York City.
Praise For…
---
"Utterly winning . . . Faye writes a good puzzle . . . [and she's] a person meant to write, who thinks and jokes and understands by writing. It's a rare gift."—New York Times Book Review

More Praise for The Paragon Hotel 

"The Paragon Hotel is set a century ago, but its themes of social and cultural upheaval feel sufficiently fresh that you might think twice about calling Lyndsay Faye's sixth novel historical fiction. But calling it terrific—not for a minute should you hesitate to do that....The great strength of "The Paragon Hotel" is Ms. Faye's voice—a blend of film noir and screwball comedy....The jauntiness of the prose doesn't hide the fact that Ms. Faye has serious business on her mind. At bottom, The Paragon Hotel is about identity and about family—those we're born into and those we create."—The Wall Street Journal

"With complex, believable characters and an intricate plot, this is a sprightly, enjoyable read."—People

"This books succeeds wildly on several levels. First, as a beautiful period piece, slangy and jazzy and bringing 1921 to brilliant life. Second, as a lesson about the racist history of Oregon. . . . And third, as a suspense story. . . . I love so much about this book."—Raleigh News and Observer

"This historical novel, which carries strong reverberations of present-day social and cultural upheavals, contains a message from a century ago that's useful to our own time: 'We need to do better at solving things.' A riveting multilevel thriller of race, sex, and mob violence that throbs with menace as it hums with wit."—Kirkus Reviews (starred review)

"Faye once again vividly illuminates history with her fiction....remarkably fluid fiction, framed as a love letter and based in fact."—Booklist (starred review)

"Faye's smart, stylish and suspenseful tale tackles timeless topics of race and gender."—BookPage (starred review)

"From the opening scene, this novel had me in its grip. Faye delivers a riveting story filled with unforgettable characters and stunning prose, while never flinching from the painful truths surrounding America's legacy of racial injustice. A remarkable, significant novel."—Fiona Davis, bestselling author of The Masterpiece

"Full of wry wit, dark humor and magnificent period details, The Paragon Hotel is a wickedly poetic tour de force."—Laura Lane McNeal, national bestselling author of Dollbaby

"Gangsters and prostitutes, nightclub singers and dodgy cops, an African-American hotel under constant threat of violence...Lyndsay Faye drops us right in the middle of the tumult of the Prohibition Era, bringing to life one of the darker times in our nation's history with wit and heart."—Lauren Willig, New York Times-bestselling author of The English Wife

"A novel at once thrilling and wise, historic and timely. 'Nobody' is somebody who will stay with you long after you turn the last page."—Natasha Solomons, New York Times-bestselling author of House of Gold