The Incredible Life of Hubert Wilkins: Australia's greatest explorer (Hardcover)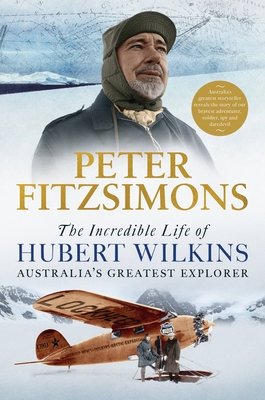 $38.99

Usually Ships in 1-5 Days
Description
---
The extraordinary, must-read story of the brave, bold Hubert Wilkins - Australia's most adventurous explorer, naturalist, photographer, war hero, aviator, spy and daredevil - brought to life by Australia's greatest storyteller.

Sir Hubert Wilkins is one of the most remarkable Australians who ever lived.

The son of pioneer pastoralists in South Australia, Hubert studied engineering before moving on to photography, then sailing for England and a job producing films with the Gaumont Film Co. Brave and bold, he became a polar expeditioner, a brilliant war photographer, a spy in the Soviet Union, a pioneering aviator-navigator, a death-defying submariner - all while being an explorer and chronicler of the planet and its life forms that would do Vasco da Gama and Sir David Attenborough proud. As a WW1 photographer he was twice awarded the Military Cross for bravery under fire, the only Australian photographer in any war to be decorated. He went on expedition with Sir Ernest Shackleton, led a groundbreaking natural history study in Australia and was knighted in 1928 for his aviation exploits, but many more astounding achievements would follow. Wilkins' quest for knowledge and polar explorations were lifelong passions and his missions to polar regions aboard the submarine Nautilus the stuff of legend.

With masterful storytelling skill, Peter FitzSimons illuminates the life of Hubert Wilkins and his incredible achievements. Thrills and spills, derring-do, new worlds discovered - this is the most unforgettable tale of the most extraordinary life lived by any Australian.,
,

About the Author
---
Peter FitzSimons AM is Australia's bestselling non-fiction writer, and for the past 35 years has also been a journalist and columnist with the SYDNEY MORNING HERALD and the SUN-HERALD.

He is the author of a number of highly successful books, including BREAKER MORANT, BURKE AND WILLS, MONASH'S MASTERPIECE, KOKODA, NED KELLY and GALLIPOLI, as well as biographies of such notable Australians as Sir Douglas Mawson, Nancy Wake and Nick Farr-Jones. His passion is to tell Australian stories, our own stories: of great men and women, of stirring events in our history.

Peter grew up on a farm north of Sydney, went to boarding school in Sydney and attended Sydney University. An ex-Wallaby, he also lived for several years in rural France and Italy, playing rugby for regional clubs. He and his wife Lisa Wilkinson AM - journalist, magazine editor and television presenter - have three children; they live in Sydney.