English Grammar Ess FD AUS REF (Paperback)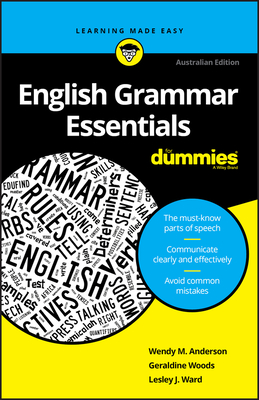 $13.58

Usually Ships in 1-5 Days
Description
---
The fun and easy way to learn essential grammar rules, common usage errors, and other key concepts in the English language - written specifically for the Australian audience

Understanding the rules of English is key to being an effective communicator--at work, at school, or anywhere else. If you struggle with the rules--and who hasn't--English Grammar Essentials For Dummies, Australian Edition is the book for you. Covering just the basics you need, the book boils the rules of grammar down to the core concepts that will make you a better communicator in any and every aspect of your life.
Ideal for students, job hunters, adult learners, those who speak English as a second language, and anyone who wants to make a good impression
Covers the vital essentials needed for better written communication
Serves as an excellent refresher course for professionals whose primary mode of communication is increasingly electronic and written
Clear and understandable writing can be the key to success in almost any professional field. With English Grammar Essentials For Dummies, Australian Edition, you'll master the basics with ease
About the Author
---
Wendy M Anderson is an author, editor and educator. She has taught effective communication in classroom and business environments for over 20 years. Geraldine Woods has taught grammar for over 25 years. Lesley J Ward is a founding member of the UK Society for Editors and Proofreaders.