Believing Jesus Bible Study Guide: A Journey Through the Book of Acts (Paperback)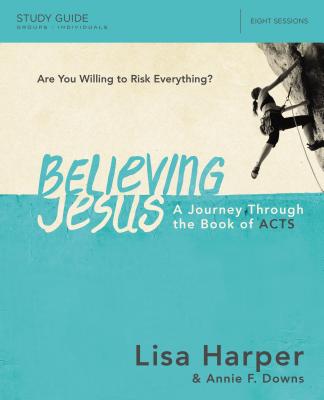 Description
---
Journey through the biblical stories of the early Christian movement, and see what kind of wild adventures await those who truly believe Jesus.
Throughout the book of Acts, believing Jesus and what He said is the core value that marked every believer in the first church. Because they believed Jesus, the early Christians, including Peter, Paul, Stephen, and Timothy:
Consistently chose risk over comfort--even at the cost of some of their lives.
Persistently opened their homes and arms, giving all they had to the Jesus way.
Radically pursued Christ over culture--until they began to shape the culture around them.
In this eight-session video Bible study (DVD/digital video sold separately), Lisa Harper launches into the book of Acts to discover how Jesus' command to spread the gospel changed the lives of those who believed and shaped the culture that surrounded the growing church.
At the end of this journey together, not only will you have studied this wild, adventurous, risk-taking book of the Bible; but you'll see how God supernaturally orchestrated the events in Scripture to bring about the message of salvation that the early believers preached in the book of Acts.
Today, we are faced with the same decisions the early church faced. Will we, like them, truly believe the words of Jesus and allow them to transform every part of our lives?
Sessions include:
The Declarations that Define Us - The book of Acts, an extension of Luke's gospel
Earth, Wind, and Celestial Fire - The Holy Spirit's dramatic entrance
Checkered Pasts Can Make Incredible Preachers - The powerful preaching of Peter and Paul
What's Mine Is Yours - Finding freedom in freely giving
Loving More People, More - A challenge to welcome everyone
The Need to Be ReGospeled - Even Peter and Paul made mistakes along the way
Turning Your World Upside Down - A closer look at THIS Jesus: the one we're following
Bearing the Chain Because - Anything is worth seeing the gospel suddenly click for someone
Designed for use with the Believing Jesus Video Study (sold separately).