1 and 2 Peter: Courage in Times of Trouble (MacArthur Bible Studies) (Paperback)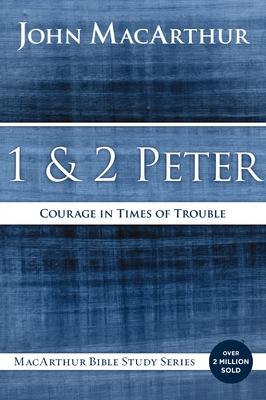 $12.99

Usually Ships in 1-5 Days
Description
---
Believers in the early church scattered across the Roman Empire were facing the threat of increased persecution. Peter, the most outspoken of the disciples and leader among the apostles, wrote two practical and encouraging letters to strengthen the hearts of these followers of Christ.
Pastor John MacArthur will take you through these two letters, passage by passage, so that you can better understand Peter's words of hope and wisdom and how to live victoriously in the midst of life-threatening trials.
In the first letter, Peter reminds believers of the many blessings available to them because of their persecution. In the second letter, he warns them to discern and defeat the false teachers who were invading their churches and teaching them dangerous and deceptive doctrines. Peter's letters of encouragement and warning are just as important for believers today as they were during the first century.
--ABOUT THE SERIES--
The MacArthur Bible Study series is designed to help you study the Word of God with guidance from widely respected pastor and author John MacArthur. Each guide provides intriguing examinations of the whole of Scripture by examining its parts and incorporates:
Extensive, but straight-forward commentary on the text.
Detailed observations on overriding themes, timelines, history, and context.
Word and phrase studies to help you unlock the broader meaning and apply it to your life.
Probing, interactive questions with plenty of space to write down your response and thoughts.
About the Author
---
John MacArthur is the pastor-teacher of Grace Community Church in Sun Valley, California, president of the Master's College and Seminary, and featured teacher with the Grace to You media ministry. In more than four decades of ministry, John has written dozens of bestselling books, including The MacArthur Study Bible, The Gospel According to Jesus, and Slave. He lives in Los Angeles.