Dublin Burning: The Easter Rising from Behind the Barricades (Hardcover)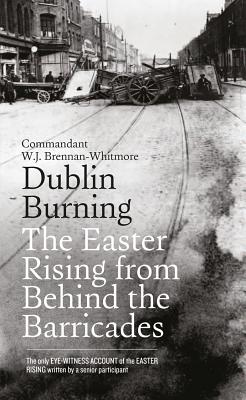 $36.00
Email or call for price
Description
---
Dublin Burning is a vivid, clear-eyed account of the 1916 Rising and is the most complete account we have from a senior participant. No other senior Volunteer figure has left a similar memoir of Easter Week.
Commandant W.J. Brennan-Whitmore was officer commanding the Volunteer position at the head of North Earl Street, an outworking of the GPO garrison. Its purpose was to delay and frustrate any attempt by the British to deploy reinforcements coming from Amiens Street railway station (now Connolly).
Commandant Brennan-Whitmore and his men held this position for over seventy-two hours until forced out by British artillery. He and his troops attempted to retreat northwards through the slums, hoping to reach the safety of the suburbs. But he and his men were not Dubliners and were unfamiliar with the city. They were captured in a tenement where they had taken refuge and were interned in Frongoch in Wales until 1917.
Brennan-Whitmore's book is a unique document, one of the most valuable accounts of the Rising available to us.
About the Author
---
Commandant W.J. Brennan-Whitmore, a native of Co. Wexford, was a journalist by profession and a senior member of the Irish Volunteers. In addition to Dublin Burning, he also wrote With the Irish in Frongoch, an account of his time as an internee. He was the last surviving Commandant of the Easter Rising when he died in December 1977.