Arms and the Man (New Mermaids) (Paperback)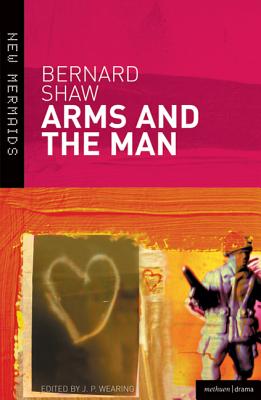 for information about purchasing this book, please contact orders@bookpassage.com
Description
---
"What use are cartridges in battle? I always carry chocolate instead."




Cheered by some and booed by others on opening night in 1894, Arms and the Man became the first success of Bernard Shaw's dramatic career that spanned six decades and brought him world-wide renown. In this perennially popular anti-romantic comedy, a fugitive enemy soldier bursts into the bedroom of a starry-eyed young woman; he then proceeds to disabuse her and those around her of the bogus romanticised ideals they have constructed around love, war, and social status.



This edition includes Shaw's definitive text and provides the most comprehensive scholarly treatment of the play to date. It radically re-examines Shaw's sources, the drafts of the play, its themes and self-fictionalising techniques, and locates it in the theatrical milieu that Shaw sought to subvert and revolutionize.

About the Author
---
J.P. Wearing, Ph.D, is Professor Emeritus of English, University of Arizona. Among his thirteen books are: G.B. Shaw: An Annotated Bibliography of Writings About Him: Volume I: 1871-1930; Bernard Shaw and Nancy Astor: Selected Correspondence of Bernard Shaw and the sixteen-volume The London Stage 1890-1959. He has held a Killam Post-doctoral Fellowship, and a Guggenheim Fellowship.