The British History Puzzle Book: From the Dark Ages to Digital Britain in 500 challenges and teasers (Paperback)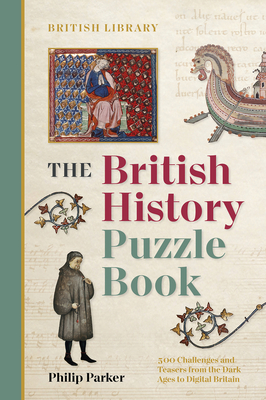 $19.95

Usually Ships in 1-5 Days
Description
---
Illustrated with beautiful images from the British Library's collection, The British History Puzzle Book will provide hours of entertainment and delight readers with questions for history novices to experts alike. It also spans British history from the first Stone Age settlers to today's post-industrial country.

A spectacular, puzzle-fueled, myth-busting journey through the hidden history of Britain in 500 questions.

Britain's history is one of the richest and most complex in Europe. From the first Stone Age settlers, through the Roman occupation, the waves of Germanic and Viking invaders, the wars of the Middle Ages, the consolidation of the United Kingdom, the British Empire, the two World Wars and today's post- industrial country, its development is filled with well-known highpoints and lesser-known byways. The British History Puzzle Book poses fascinating and fiendish questions which will test your knowledge of the nation's history to the limit and reveal a treasure trove of astonishing facts.

So if you've ever wondered where cricket was invented, how many husbands the reigning queens of England have had, or who the first recorded tourist to visit Britain was, then The British History Puzzle Book will provide all the answers.
About the Author
---
Philip Parker has written widely on the worlds of late antiquity, the early Middle Ages and the history of maps. His Sunday Times best-selling The Northmen's Fury, is an in-depth reappraisal of the Viking world while his recent titles include The History of Britain in Maps, The A to Z History of London and The British Library Magnificent Maps Puzzle Book. He lives in London.