The Movie Puzzle Book (Paperback)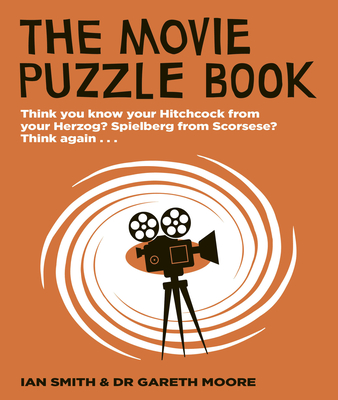 $19.99

Usually Ships in 1-5 Days
Description
---
What are the dying words of Charles Foster Kane in Citizen Kane? 
In The Matrix, does Neo take the blue pill or the red pill? 
From Steven Spielberg to Martin Scorsese, Alfred Hitchcock to Werner Herzog test your knowledge of the movies with this lively and entertaining puzzle book.

Packed with history, facts, puzzles and images of all the most famous movies, stars and director, it will make the perfect Christmas gift. 
Covering all genres of film from horror to sci-fi, superhero to art house, the book will suit both film aficionados, who know the details of every Godfather film, to those who just love a weekend blockbuster. 
Organized thematically, there are sections on all the key genres of film from all periods. The puzzles are designed so that you can work out the answers if you don't know them already, so you don't have to be a film expert in order to enjoy the book. 
Written  by Ian Smith, with the puzzles generated by expert puzzle creator, Gareth Moore. 
About the Author
---
Ian Haydn Smith is a UK-based writer and editor. As a journalist he has written on film and the arts for numerous media outlets, both print and broadcast. From 2007 to 2012 he was editor of International Film Guide. He has spoken at film festivals and cultural events around the world, both as a critic and as a representative of the British Council. He has interviewed a variety of filmmakers and artists, including Ralph Fiennes, Clint Eastwood, Isabelle Huppert, Alan Bennett, Ang Lee, Agnès Varda, Terry Gilliam and Anton Corbijn. Recent publications include FilmQuake, Selling the Movie, and editing the updated edition of 1001 Movies to See Before You Die. He lives in London.
Dr Gareth Moore is the author of over 200 puzzle and brain-training titles for both children and adults, including The Ordnance Survey Puzzle Book (Trapeze), Enigma: Crack the Code (Michael O'Mara) and The Penguin Book of Puzzles (Michael Joseph). His books have sold in excess of 5 million copies in the UK alone, and have been published in over 35 different languages. He is also a director of the World Puzzle Federation, which oversees the World Puzzle Championships, and a director of the UK Puzzle Association. Find him online at DrGarethMoore.com.