What Makes an Apple?: Six Conversations about Writing, Love, Guilt, and Other Pleasures (Hardcover)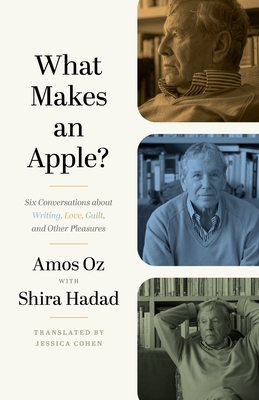 Description
---
Revelatory talks about art and life with internationally acclaimed Israeli novelist Amos Oz
In the last years of his life, the writer Amos Oz talked regularly with Shira Hadad, who worked closely with him as the editor of his final novel,
Judas
. These candid, uninhibited dialogues show a side of Oz that few ever saw.
What Makes an Apple?
presents the most revealing of these conversations in English for the first time, painting an illuminating and disarmingly intimate portrait of a towering literary figure. In frank and open exchanges that are by turns buoyant, introspective, and argumentative, Oz explains what impels him to begin a story and shares his routines, habits, and challenges as a writer. He discusses the tectonic changes he experienced in his lifetime in relationships between women and men, and describes how his erotic coming of age shaped him not only as a man but also as an author. Oz reflects on his parents, his formative years on a kibbutz, and how he dealt with and learned from his critics, his students, and his fame. He talks about why there is more humor in his later books and gives his exceptional take on fear of death. Resonating with Oz's clear, honest, and humorous voice,
What Makes an Apple?
offers unique insights about Oz's artistic and personal evolution, and enables readers to explore his work in new ways.
About the Author
---
Amos Oz (1939-2018) was a world-renowned novelist, essayist, and short-story writer. His many books include A Tale of Love and Darkness, Scenes from Village Life, and How to Cure a Fanatic (Princeton). Shira Hadad is an acclaimed editor of contemporary Israeli fiction and a screenwriter. She edited works by such writers as Amos Oz and Zeruya Shalev, and created TV dramas for various networks. Jessica Cohen is the translator of Amos Oz's Dear Zealots and of works by such writers as Etgar Keret, Ronit Matalon, and Nir Baram.