Little Green: Growing Up During the Chinese Cultural Revolution (Hardcover)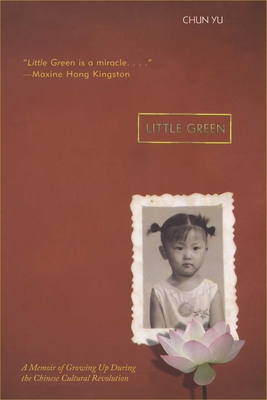 for information about purchasing this book, please contact orders@bookpassage.com
Description
---
I was born in a small city near the East Sea,
when the Great Cultural Revolution began.
My name is Little Green,
my country Zhong Guo, the Middle Kingdom.
When I was ten years old,
our leader had died and the revolution ended.
And this is how I remember it.
When Chun Yu was born in a small city in China, she was born into a country in revolution. The streets were filled with roaming Red Guards, the walls were covered with slogans, and reeducation meetings were held in all workplaces. Every family faced danger and humiliation, even the youngest children.
Shortly after Chun's birth, her beloved father was sent to a peasant village in the countryside to be reeducated in the ways of Chairman Mao. Chun and her brother stayed behind with their mother, who taught in a country middle school where Mao's Little Red Book was a part of every child's education. Chun Yu's young life was witness to a country in turmoil, struggle, and revolution -- the only life she knew.
This first-person memoir of a child's view of the Chinese Cultural Revolution is a stunning account of a country in crisis and a testimony to the spirit of the individual -- no matter how young or how innocent.
About the Author
---
Chun Yu was born in China in May 1966. After graduating from Peking University, she moved to the United States to pursue her PhD and a career in science. She now works as a principal scientist in a medical company Chun Yu lives in San Rafael, California.
Praise For…
---
"Little Green is a miracle-such beauty emerging from the chaos of the Cultural Revolution. A clear-eyed child is born into a surrealistic China, and tells her story. Chun Yu's poetry creates sense and order that readers young and old, Eastern and Western, will appreciate."
-Maxine Hong Kingston