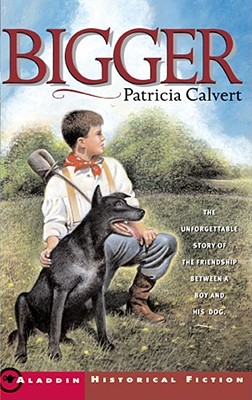 $8.95

Usually Ships in 1-5 Days
Description
---
In the spring of 1865 the Civil War has finally ended. Men are coming home. Families are being reunited -- except for Tyler's. His father is going with a band of men to Mexico, where they will regroup, rearm, and continue the fight against the Yankees. Tyler is stunned. For four years he's dreamed of seeing his father again, and he can't let go of that dream. There's only one thing Tyler can do -- go get his father and bring him home.
Tyler starts his trek from Missouri to the Rio Grande alone, but he quickly gains a companion -- a strange dog made mean by cruelty but tamed by hunger and Tyler's desperately lonely need for him. Tyler names him Bigger.
The journey is long and hard but, with Bigger by his side, possible. Tyler might make it all the way to the Rio Grande. He might even find his father. But most importantly, Bigger helps Tyler realize that some dreams might not be worth holding on to.
About the Author
---
Patricia Calvert is the author of Bigger, a Simon & Schuster book.
Praise For…
---
Publishers Weekly Starred review Thought-provoking, imbued with powerful emotion, and conveying a timeless theme, this is historical fiction at its best.