The Moon Lady (Paperback)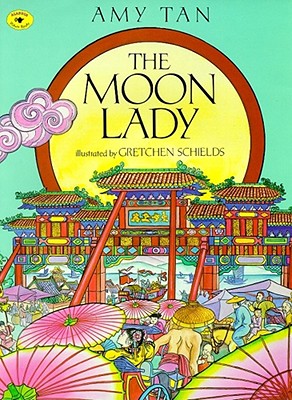 $8.99

Usually Ships in 1-5 Days
Description
---
A MAGICAL NIGHT WHEN SECRET WISHES CAN COME TRUE
On a rainy afternoon, three sisters wish for the rain to stoop, wish they could play in the puddles, wish for something, anything, to do. So Ying-Ying, their grandmother, tells them a tale from long ago. On the night of the Moon Festival, when Ying-ying was a little girl, she encountered the Moon Lady, who grants the secret wishes of those who ask, and learned from her that the best wishes are those you can make come true yourself. This haunting tale, adapted from Amy Tan's best-seller The Joy Luck Club and enhanced by Gretchen Schields's rich, meticulously detailed art, is a book for all to treasure.
About the Author
---
Amy Tan wrote her first published essay, "What the Library Means to Me," at age eight. She has since become the author of two highly praised works of fiction: The Joy Luck Club, which was chosen by the American Library Association as a Best Book for Young Adults; and The Kitchen God's Wife, named a 1991 Booklist Editors' Choice. Her recent essay, "Mother Tongue," was included in the 1991 edition of Best American Essays. Prior to writing fiction, Ms. Tan worked as a language development consultant to programs serving developmentally disabled children. She lives in San Francisco with her husband, Lou DeMattei.