The Chocolate Touch (Library Binding)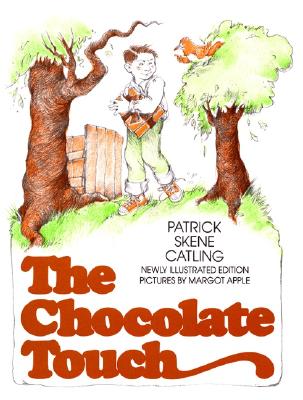 Description
---
In this zany twist on the legend of King Midas and his golden touch, a boy acquires a magical gift that turns everything his lips touch into chocolate!
Can you ever have too much of your favorite food? John Midas is about to find out….
The Chocolate Touch has remained a favorite for millions of kids, teachers, and parents for several generations. It's an enjoyable story that pulls in even reluctant readers.
About the Author
---
Born in London, Patrick Skene Catling was educated there and at Oberlin College in the United States. As a Royal Canadian Air Force navigator and as a journalist, he has traveled extensively. His present home is in the Republic of Ireland.The original appearance of The Chocolate Touch in 1952 stirred much reviewer enthusiasm. The New York Herald Tribune remarked, "it has already proved a hilarious success with children," and The Saturday Review said, "it is told with an engaging humor that boys and girls will instantly discover and approve."
Margot Apple lives in Massachusetts. She has three horses: two Morgans (Devil, age twenty-five, and Tiggy, Devil's 1999 filly) and Annie, a quarter horse. In 2003 Tiggy began participating in her first horse shows in the Western Pleasure Division.
Margot Apple is the author-artist of Blanket and Brave Martha and the illustrator of Appaloosa Zebra: A Horse Lover's Alphabet, Runaway Radish, and the beloved "Sheep" books, including Sheep in a Jeep and Sheep Trick or Treat.