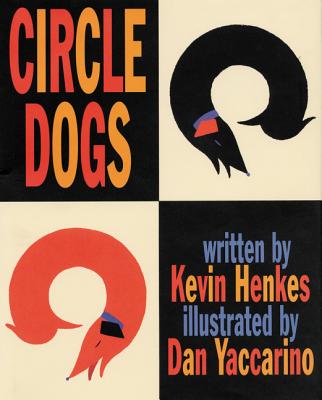 $18.99
Email or call for price
Description
---
Young readers will want to wiggle and bounce and dig through the day with the circle dogs . . . until it's time for bed!
The circle dogs live in a big, square house with a big, square yard. See the dogs? See the circles?
The sun comes up, the baby cries, and the circle dogs stretch and yawn. With a flip-flap of their tails the rambunctious pooches are off to spend a happy day with Mama, Papa, Big Sister, and Baby in the big square house.
A joyous picture book bursting with activity, shapes, and playful sounds from acclaimed illustrator Dan Yaccarino and Kevin Henkes, creator of Lilly's Purple Plastic Purse and many other beloved and bestselling picture books.
The wonderfully fresh and vivid look of the artwork paired with the rhythmic whimsical cadence of the text makes this book a perfect choice for very young audiences.
"Each page is a beautifully composed arrangement of sleek shapes that float on a field of creamy paper." (New York Times Book Review)
About the Author
---
Kevin Henkes has been praised both as a writer and as an illustrator and is the recipient of the Children's Literature Legacy Award for his lasting contribution to literature for children. He received the Caldecott Medal for Kitten's First Full Moon; Caldecott Honors for Waiting and Owen; two Newbery Honors, one for Olive's Ocean and one for The Year of Billy Miller; and Geisel Honors for Waiting and Penny and Her Marble. His other books include The World and Everything In It; A House; A Parade of Elephants; Chrysanthemum; and the beloved Lilly's Purple Plastic Purse. Kevin Henkes lives with his family in Madison, Wisconsin.
Dan Yaccarino is an internationally acclaimed author-illustrator with more than thirty children's books to his credit, including I Am a Story, Five Little Pumpkins, Five Little Bunnies, Trashy Town, and Giant Tess. He also created and produced Nickelodeon's Oswald and is the character designer behind The Backyardigans. You can visit him at www.yaccarinostudio.com.
Praise For…
---
"Shapes cavort in the form of circle dogs that live in a big square house in this delightful book. Imitative of the early work of Margaret Wise Brown." — Kirkus Reviews
"Dramatizes the toddler's visceral, joyful, licking, cuddling bond with two circle dachshunds." — ALA Booklist
"Dramatizes the toddler's visceral, joyful, licking, cuddling bond with two circle dachshunds." — Chicago Tribune
"Shapes cavort in the form of circle dogs that live in a big square house in this delightful book. Imitative of the early work of Margaret Wise Brown." — Kirkus Reviews