Raving Fans: A Revolutionary Approach To Customer Service (Hardcover)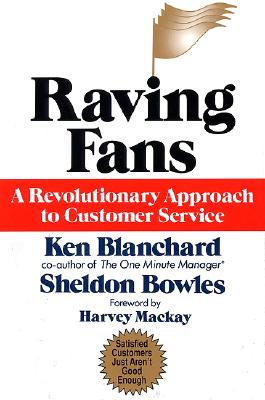 $23.99

Usually Ships in 1-5 Days
Description
---
Written in the parable style of The One Minute Manager, Raving Fans uses a brilliantly simple and charming story to teach how to define a vision, learn what a customer really wants, institute effective systems, and make Raving Fan Service a constant feature--not just another program of the month.

America is in the midst of a service crisis that has left a wake of disillusioned customers from coast to coast. Raving Fans includes startling new tips and innovative techniques that can help anyone create a revolution in any workplace--and turn their customers into raving, spending fans.
"Your customers are only satisfied because their expectations are so low and because no one else is doing better. Just having satisfied customers isn't good enough anymore. If you really want a booming business, you have to create Raving Fans."
This, in a nutshell, is the advice given to a new Area Manager on his first day--in an extraordinary business book that will help everyone, in every kind of organization or business, deliver stunning customer service and achieve miraculous bottom-line results.
About the Author
---
Ken Blanchard, PhD, is one of the most influential leadership experts in the world. He has co-authored 60 books, including Raving Fans and Gung Ho! (with Sheldon Bowles). His groundbreaking works have been translated into over 40 languages and their combined sales total more than 21 million copies. In 2005 he was inducted into Amazon's Hall of Fame as one of the top 25 bestselling authors of all time. The recipient of numerous leadership awards and honors, he is cofounder with his wife, Margie, of The Ken Blanchard Companies®, a leading international training and consulting firm.
Sheldon Bowles lives in Winnipeg, Canada, and is president of Ode to Joy Limited, chairman of Precision Metalcraft Inc., and an associate of the Exchange Group. A noted speaker, author, and businessperson, he serves on several boards and is currently busy with new projects: a chain of full-service car washes and three forthcoming books, High Five!, Kingdomality, and Road to Riches, all coauthored with Ken Blanchard.