Seeing in the Dark: How Amateur Astronomers Are Discovering the Wonders of the Universe (Paperback)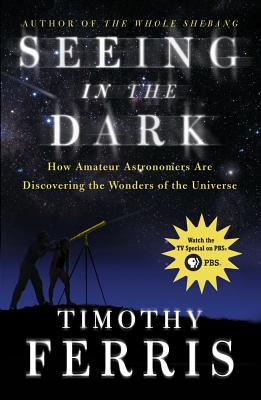 $24.99

Usually Ships in 1-5 Days
Description
---
In Seeing in the Dark, a poetic love letter to science and to the skies, Timothy Ferris invites us all to become stargazers. He recounts his own experiences as an enthralled lifelong amateur astronomer and reports from around the globe -- from England and Italy to the Florida Keys and the Chilean Andes -- on the revolution that's putting millions in touch with the night sky. In addition, Ferris offers an authoritative and engaging report on what's out there to be seen -- what Saturn, the Ring nebula, the Silver Coin galaxy, and the Virgo supercluster really are and how to find them. The appendix includes star charts, observing lists, and a guide on how to get involved in astronomy.
Ferris takes us inside a major revolution sweeping astronomy, as lone amateur astronomers, in global networks linked by the Internet, make important discoveries that are the envy of the professionals. His ability to describe the wonders of the universe is simply magical, and his enthusiasm for his subject is irresistible.
About the Author
---
Timothy Ferris, called "the best popular science writer in the English language today" (The Christian Science Monitor) and "the best science writer of his generation" (The Washington Post), is the author of ten books, including the bestsellers The Whole Shebang and Coming of Age in the Milky Way. He has won the American Institute of Physics prize (twice), the American Association for the Advancement of Science prize, and has been nominated for the Pulitzer Prize and the National Book Award. A frequent contributor to The New Yorker, he lives in San Francisco and stargazes from his personal astronomical observatory on Sonoma Mountain in California's wine country. Visit his Web site at www.timothyferris.com.
Praise For…
---
The Washington Post Entrancing and beautifully written, this latest work by Ferris, the writer laureate of astronomy, will be treasured by generations of stargazers to come.

The New York Times Book Review Editor's Choice: One of the year's best books.

The New York Times Book Review This is a beautiful book....Seeing in the Dark is even more delightful and successful because Ferris has so artfully pinned its organization to the human experiences of observers past and present.

Discover Ferris takes readers on a grand tour of the known universe, from nearby planets to distant galaxies, in a sweeping, elegantly composed narrative rich with historic and scientific detail.

Entertainment Weekly If it's his skills as a scholar that allow Ferris to present amateur astronomy as lively and exciting, then it's his gift for expressive prose that makes these nocturnal pursuits seem gripping and romantic.

Scientific American A delightful look back down the telescopes of some of the world's most accomplished citizen astronomers....A refreshing perspective.