In the Hands of the Great Spirit: The 20,000-Year History of American Indians (Paperback)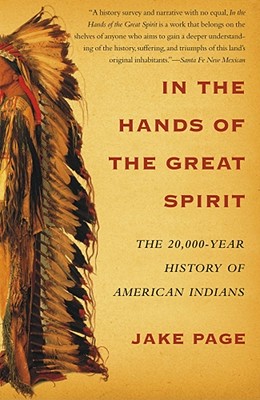 $22.00

Usually Ships in 1-5 Days
Description
---
This "flowing, lucid, and satisfying…story of Indian nations" (The Washington Post) traces the history of North American Indigenous peoples from the Pleistocene era to the present—a must-read for anyone wishing to gain a broader perspective on not only Native American history, but United States history in general.

Today, some two million American Indians inhabit the United States, less than one percent of the nation's population. Their origins have always been viewed from a 500-year-old perspective—from the point of view of the Europeans who "discovered" the New World. Yet the true story of the American Indians begins some seventeen thousand years ago—and it is past due for a telling that shows Indians as they are, rather than as westerners wish them to be.

Recent archaeological findings, newly discovered written accounts, and never-before-published records have contributed to a whole new understanding of our country's oldest ancestors. Drawing upon the latest research, as well as his own personal experience living among the Hopi tribes, acclaimed author and former Natural History magazine editor Jake Page covers all aspects of Indian life throughout the ages. From the Pleistocene era to Custer's Last Stand, the Trail of Tears to the Indian Civil Rights Act, the establishment of reservations to the negotiation of casino property, In the Hands of the Great Spirit reveals the astonishing endurance of a group of people whose experience is as varied as the world is old.
About the Author
---
Jake Page is a former editor of both Natural History and Smithsonian magazines, and author of numerous magazine articles and books on topics related to American Indian history, culture, and art. He is also the author of seven mystery novels and alternative history novels that involve Indian themes and characters, and was called by The Denver Post "one of the Southwest's most distinguished writers." He lives in Corrales, New Mexico.
Praise For…
---
Santa Fe New Mexican A history survey and narrative with no equal, In the Hands of the Great Spirit is a work that belongs on the shelves of anyone who aims to gain a deeper understanding of the history, suffering, and triumphs of this land's original inhabitants.

Phoenix New Times Page brings scholarly detail as well as literary flair to this epic account.

Publishers Weekly (starred review) A magnum opus...fills an enormous gap in the popular historical literature.

The Washington Post Judicious, as well as flowing, lucid, and satisfying....Great praise goes to Page for joining so many others in getting out the story of Indian nations.