Floating in My Mother's Palm (Paperback)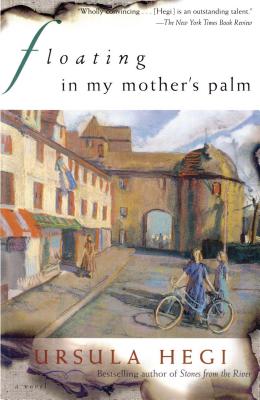 $13.99

Usually Ships in 1-5 Days
Description
---
Floating in My Mother's Palm is the compelling and mystical story of Hanna Malter, a young girl growing up in 1950's Burgdorf, the small German town Ursula Hegi so brilliantly brought to life in her bestselling novel Stones from the River. Hanna's courageous voice evokes her unconventional mother, who swims during thunderstorms; the illegitimate son of an American GI, who learns from Hanna about his father; and the librarian, Trudi Montag, who lets Hanna see her hometown from a dwarf's extraordinary point of view. Although Ursula Hegi wrote Floating in My Mother's Palm first, it can be read as a sequel to Stones from the River.
About the Author
---
Ursula Hegi is the author of The Worst Thing I've Done, Sacred Time, Hotel of the Saints, The Vision of Emma Blau, Tearing the Silence, Salt Dancers, Stones from the River, Floating in My Mother's Palm, Unearned Pleasures and Other Stories, Intrusions, and Trudi & Pia. She teaches writing at Stonybrook's Southhampton Campus and she is the recipient of more than thirty grants and awards.
Praise For…
---
The New York Times Book Review Wholly convincing...[Hegi] is an outstanding talent.

Los Angeles Times Stunning...it can break your heart....[Hegi] has created an absolutely correct postwar Germany with all its forbidden questions and mysterious behavior, all its squalor, loss and longing.

Michael Dorris Lyrically transforms the memory of particular people and place into a song sung with great beauty and meaning. This novel is a gift to savor...stirring, unforgettable.

Chicago Tribune Brilliant...mesmerizing reading [by] a talented and insightful author.

The Seattle Times/Post-Intelligencer Beautiful...tender...vividly and memorably painted.

Alice McDermott A graceful, lyrical, heartbreaking book that offers many pleasures, not the least of which is the opportunity to read a very talented author writing at the top of her form, telling stories she seems born to tell in a voice that is completely her own. Marvelous.

Lynne Sharon Schwartz A treasure of a book. At once amazingly delicate and eerily powerful, it envelops the reader in the raw, painful, and poignant life of a small town in postwar Germany -- benumbed, bewildered, and, sadly, not much wiser. Ursula Hegi is a beautiful writer with much truth to tell.

San Francisco Review of Books Exquisite...Hegi's language signals a rare and particular power. There is a sonorous, hypnotic hum about these sentences that resound as prose, poetry, and hymn -- and when we put the book down, its after-images burn the mind's eye.

Bob Shacochis If Stravinsky were a writer, I imagine he would have written a book such as this, for Ursula Hegi gathers all the tonal moods and emotional power to her work that we expect of music that moves us to appreciate our hearts and souls and their troubling complexity.

New York Newsday An unusual, beautifully written book that sets the coming-of-age of a perceptive child, full of merriment, pain, and compassion, against the brilliantly realized small German town relatively untouched by the world outside...remarkable.