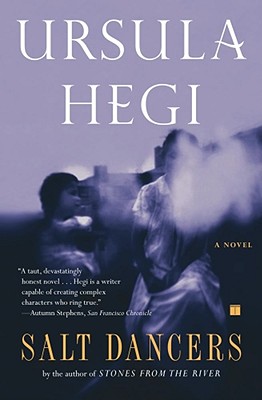 Description
---
Salt Dancers is at once a brilliant portrait of an American family, a story of the secrets families guard, and a moving account of one woman's journey back to a past filled with elusive memories and suppressed rage. Why did Julia's mother disappear one day without so much as a word? How did a loving father who taught her such a beautiful thing as the salt dance become such a terrifying and abusive presence? These are the questions which Julia must confront when she returns to Spokane, Washington, after an absence of twenty-three years.
Salt Dancers, a superbly written novel, is a poignant and truthful chronicle of self-discovery and the power of resurrection.
About the Author
---
Ursula Hegi is the author of The Worst Thing I've Done, Sacred Time, Hotel of the Saints, The Vision of Emma Blau, Tearing the Silence, Salt Dancers, Stones from the River, Floating in My Mother's Palm, Unearned Pleasures and Other Stories, Intrusions, and Trudi & Pia. She teaches writing at Stonybrook's Southhampton Campus and she is the recipient of more than thirty grants and awards.
Praise For…
---
Autumn Stephens San Francisco Chronicle A taut, devastatingly honest novel...Hegi is a writer capable of creating complex characters who ring true.