The Rape of Europa: The Fate of Europe's Treasures in the Third Reich and the Second World War (Paperback)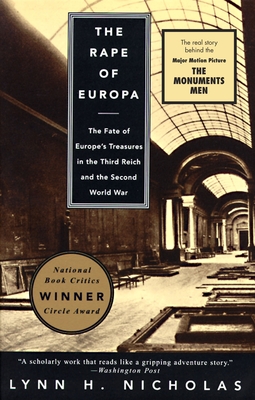 Description
---
Winner of the National Book Critics Circle Award

The real story behind the major motion picture The Monuments Men. The cast of characters includes Hitler and Goering, Gertrude Stein and Marc Chagall--not to mention works by artists from Leonardo da Vinci to Pablo Picasso. And the story told in this superbly researched and suspenseful book is that of the Third Reich's war on European culture and the Allies' desperate effort to preserve it.

From the Nazi purges of "Degenerate Art" and Goering's shopping sprees in occupied Paris to the perilous journey of the Mona Lisa from Paris and the painstaking reclamation of the priceless treasures of liberated Italy, The Rape of Europa is a sweeping narrative of greed, philistinism, and heroism that combines superlative scholarship with a compelling drama.
About the Author
---
Lynn H. Nicholas was born in New London. Connecticut.  She was educated in the United States, England, and Spain, and received her B.A. from Oxford University. After her return to the United States she worked for several years at the National Gallery of Art.  While living in Belgium in the early 1980s, she began research for this book, her first.  Ms. Nicholas and her husband live in Washington, D.C.
Praise For…
---
"Nicholas knows the art world as well as any military historian knows his battlefield.... Her work deserves the widest reading."--New York Times Book Review

"At once fascinating and horrifying [with] a strong element of spine-chilling suspense."- Los Angeles Times

"Intriguing..suspenseful...a sensational story of moral courage and greatness of character in the face of pure evil." -Houston Chronicle

"Impressively detailed and well-told...full of moving and fateful stories of escape, intrigue, betrayal, and sacrifice."-San Francisco Chronicle