The Crazy Kill (Harlem Detectives #3) (Paperback)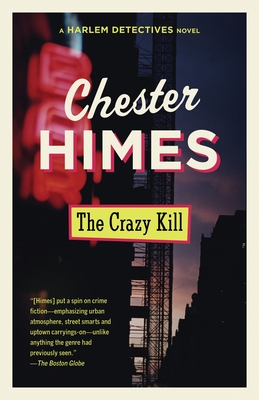 for information about purchasing this book, please contact orders@bookpassage.com
Other Books in Series
This is book number 3 in the Harlem Detectives series.
Description
---
Love and jealousy erupt into violence in The Crazy Kill, a classic thriller in Chester Himes's trailblazing Harlem Detectives series.
 
One early morning, Reverend Short is watching from his bedroom window as the A&P across the street is robbed. As he tries to see the thief get away, the opium-addicted preacher leans too far and falls out--but he is unscathed, thanks to an enormous bread basket outside the bakery downstairs.  As the crowd gathers to see what happened, a shocking discovery is made: There is another body in the bread basket, and Valentine Haines is dead, really dead. It's up to Grave Digger Jones and Coffin Ed Johnson to find out who murdered Val.
About the Author
---
Chester Himes was born in Missouri in 1909. He began writing while serving a prison sentence for a jewel theft and published just short of twenty novels before his death in 1984. Among his best-known thrillers are Blind Man with a Pistol, Cotton Comes to Harlem, The Crazy Kill, A Rage in Harlem, The Real Cool Killers, and The Heat's On, all available from Vintage.
Praise For…
---
"[Himes] put a spin on crime fiction—emphasizing urban atmosphere, street smarts and uptown carryings-on—unlike anything the genre had previously seen."
    —The Boston Globe

"One of the most important American writers of the 20th century. . . . A quirky American genius."
    —Walter Mosley

"A perverse blend of sordid realism and macabre fantasy-humor."
    —The New York Times  
 
"For sheer toughness it's hard to beat the black detectives Coffin Ed Johnson and Grave Digger Jones. Himes never received the recognition he deserved for his books—they combine elements of George V. Higgins, Elmore Leonard, and Richard Stark, with a bleak vision all their own."
    —The Washington Post