Tom Jones: Introduction by Claude Rawson (Everyman's Library Classics Series) (Hardcover)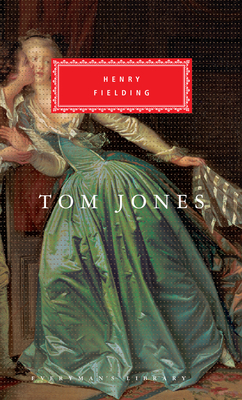 for information about purchasing this book, please contact orders@bookpassage.com
Description
---
One of the first and most influential of English novels, Henry Fielding's Tom Jones—published in 1749—is blessed with a lively and endearing hero at the center of one of the most ingeniously constructed comic plots in fiction.
           
Tom Jones, a foundling brought up in the household of the benevolent Squire Allworthy, falls in love with the beautiful heiress Sophia Western, whose father forbids them to marry on grounds of Tom's low birth. Tom is a lusty, high-spirited yet good-hearted soul, and after he is banished by his guardian for youthful misbehavior he heads to London to make his own fortune, with the smitten Sophia in pursuit. A series of bawdy escapades and assorted scrapes ensues, including a duel and a stint in prison, before the mystery of Tom's birth is unraveled. Fielding used all the dramatic skill he had amassed as a successful playwright for the London stage to tell this hugely entertaining story of a flawed but generous hero claiming his true identity and his true love.
(Book Jacket Status: Not Jacketed).
About the Author
---
Henry Fielding was born in 1707 at Sharpham Park, near Glastonbury. He was educated privately at first and then at Eton. In 1725 he attempted to abduct an heiress and was bound over to keep the peace. He then went to London, where in 1728 he published a satirical poem, The Masquerade, and a comedy, Love in Several Masques. From 1728 to 1729 he was a student of literature at Leyden University, returning to London in the autumn of the latter year. Between then and 1737 he wrote some twenty-five dramatic pieces, including comedies, adaptations of Molière, farces, ballad operas, burlesques and a series of topical satires, such as Pasquin and The Historical Register, which lampooned Sir Robert Walpole and his government. It was partly because of this last play that Walpole introduced the Stage Licensing Act in 1737, which effectively ended Fielding's career as a dramatist. After this he embarked on a career in the law and was called to the Bar in 1740, but had little success as a barrister. In 1734 he married Charlotte Cradock, the model for Sophie Western and also for the heroine of his last novel, Amelia (1751).
Praise For…
---
"Two hundred years have not dimmed Fielding's realism. His humor is closer to our own than that of any writer before the present century."—Kingsley Amis