The Magnificent Boat: The Colonial Theft of a South Seas Cultural Treasure (Hardcover)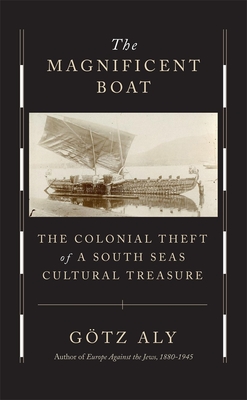 Description
---
From an eminent and provocative historian, a wrenching parable of the ravages of colonialism in the South Pacific.
Countless museums in the West have been criticized for their looted treasures, but few as trenchantly as the Humboldt Forum, which displays predominantly non-Western art and artifacts in a modern reconstruction of the former Royal Palace in Berlin. The Forum's premier attraction, an ornately decorated fifteen-meter boat from the island of Luf in modern-day Papua New Guinea, was acquired under the most dubious circumstances by Max Thiel, a German trader, in 1902 after two decades of bloody German colonial expeditions in Oceania. G tz Aly tells the story of the German pillaging of Luf and surrounding islands, a campaign of violence in which Berlin ethnologists were brazenly complicit. In the aftermath, the majestic vessel was sold to the Ethnological Museum in the imperial capital, where it has remained ever since. In Aly's vivid telling, the looted boat is a portal to a forgotten chapter in the history of empire--the conquest of the Bismarck Archipelago. One of these islands was even called Aly, in honor of the author's great-granduncle, Gottlob Johannes Aly, a naval chaplain who served aboard ships that helped subjugate the South Sea islands Germany colonized. While acknowledging the complexity of cultural ownership debates, G tz Aly boldly questions the legitimacy of allowing so many treasures from faraway, conquered places to remain located in the West. Through the story of one emblematic object,
The Magnificent Boat
artfully illuminates a sphere of colonial brutality of which too few are aware today.