The Mermaid Chair (Hardcover)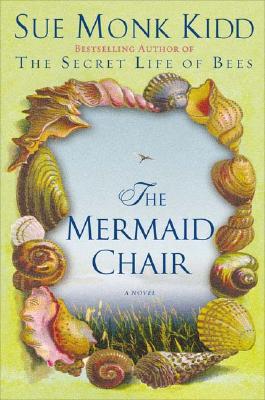 $24.95
Email or call for price
Description
---
Inside the abbey of a Benedictine monastery on tiny Egret Island, just off the coast of South Carolina, resides a beautiful and mysterious chair ornately carved with mermaids and dedicated to a saint who, legend claims, was a mermaid before her conversion. Jessie Sullivan's conventional life has been "molded to the smallest space possible." So when she is called home to cope with her mother's startling and enigmatic act of violence, Jessie finds herself relieved to be apart from her husband, Hugh. Jessie loves Hugh, but on Egret Island—amid the gorgeous marshlands and tidal creeks—she becomes drawn to Brother Thomas, a monk who is mere months from taking his final vows. What transpires will unlock the roots of her mother's tormented past, but most of all, as Jessie grapples with the tension of desire and the struggle to deny it, she will find a freedom that feels overwhelmingly right.
What inspires the yearning for a soul mate? Few writers have explored, as Kidd does, the lush, unknown region of the feminine soul where the thin line between the spiritual and the erotic exists. The Mermaid Chair is a vividly imagined novel about the passions of the spirit and the ecstasies of the body; one that illuminates a woman's self-awakening with the brilliance and power that only a writer of Kidd's ability could conjure.
About the Author
---
SUE MONK KIDD is the author of the novels,
The Secret Life of Bees
and
The Mermaid Chair
, and the memoirs,
The Dance of the Dissident Daughter, When the Heart Waits
, and
Firstlight
, a collection of early writings.
The Secret Life of Bees
has spent more than 125 weeks on the
New York Times
bestseller list and was adapted into an award-winning movie.
The Mermaid Chair
, a #1 New York Times bestseller, was adapted into a television movie. Each of her novels has been translated into more than 24 languages. The recipient of numerous literary awards, Sue lives in South Carolina with her husband.
Praise For…
---
"Book clubs, start your engines. Sue Monk Kidd's first novel,
The Secret Life of Bees
, has sold 3 million copies since 2002.…Those are big shoes to fill, but Kidd acquits herself admirably with
The Mermaid Chair
….Both novels drip with vivid images of hot Southern afternoons, droning insects, swooping birds and oases in which nature is the fabric of life. It is a tapestry strengthened by bonds between women that bridge pain and loss. Most important, both have passages of beautiful writing… Kidd wrote two well-received memoirs before turning to fiction. But perhaps the answer ultimately given by
The Mermaid Chair
is that a storyteller also can change course and come of age in the middle of her life."
—USA Today
"Her writing is so smart and sharp, she gives new life to old midlife crises, and she draws connections from the feminine to the divine to the erotic that a lesser writer wouldn't see, and might not have the guts to follow."
—Time
"(A) rewarding second novel by the author of the bestselling Secret Life of Bees. Writing from the perspective of conflicted, discontented Jessie, Kidd achieves a bold intensity and complexity that wasn't possible in The Secret Life of Bees, narrated by teenage Lily. Jessie's efforts to cope with marital stagnation; Whit's crisis of faith; and Nelle's tormented reckoning with the past will resonate with many readers. This emotionally rich novel, full of sultry, magical descriptions of life in the South, is sure to be another hit for Kidd."
—Publisher's Weekly
, starred review
"Compelling reading….The writing is soulful in its probing of the human heart and family secrets."
—The San Francisco Chronicle
"Secrets are told. Mysteries are revealed. In one rich and satisfying gush…, Jessie reevaluates just about every aspect of her life: her husband, her lover, her mother, her artwork, the death of her father decades ago, and most of all herself... Rewarding."
—Milwaukee Journal-Sentinel
"If [The Secret Life of] Bees was a girl's coming-of-age novel, [The Mermaid] Chair is a woman's coming-of-middle-age novel….The prose thrilled me. Kidd can really turn a phrase and her descriptions of nature's archetypal elements are magnificent."
—The Philadelphia Inquirer
"A woman at life's crossroads, a parent's tragic death and a strong, if eccentric circle of women. Stir in a forbidden love, and the pages all but turn themselves."
—Parade
"Kidd grabs you from the first sentence of The Mermaid's Chair. It is a satisfying tale that balances Southern gothic…[with] wish-fulfillment romance and a down-to-earth dissection of family problems. Sue Monk Kidd is a high-end practitioner of Ya-Ya-ism, with a lucid prose style and a fine sense of story. … A good read."
—The Atlanta Journal-Constitution
"Richly rewarding."
—Chicago Tribune
"Kidd's second offering is just as gracefully written as her first and possesses an equally compelling story. It should appeal to the many readers who made her first novel a hit with book clubs."
—Booklist Magazine
(American Library Association)
"Fans of Sue Monk Kidd's best-selling debut novel, The Secret Life of Bees, will be equally enamored with her beguiling sophomore effort....Reconciling the spiritual with the human, The Mermaid Chair is a captivating metaphorical and sensual journey into one woman's soul. Weaving enduring folklore about the seductive and transformative power of mermaids into a modern-day tale of rebirth, the novel shows us that sometimes we need to swim out to sea for the currents to carry us back home."
—Book Page Magazine
"It's hard to put this book down for little things like sleeping and eating."
—Elle, "Elle's Letters" Readers' Prize 2005
"A well-told tale about marriage, mystery – and mermaids….Kidd writes at a deeper emotional level than she did in the fabulously popular Bees. Her characters are more tormented, more complex, in their processes of coming unwound and then healing….Yet it is also a quite powerful feminist statement, and can be savored strictly on the basis of Kidd's beautiful use of language….The Mermaid Chair is a multidimensional pleasure."
—Fort Worth Star-Telegram
"Kidd's greatest strength as a writer is her sensuous, evocative prose. Egret Island is alive with its scent of salted air, old crab pots, bulling gumbo. The novel is also full, dense with symbolism, from the recurrent motif of the mermaid, diving deep and surfacing, to images of baptism, birds, rebirth. And Kidd continues to emphasize her central insights into the power of secrets to fester, the healing force of honesty and the significance of communities of independent but interwoven women, open to reconfigured rituals of grace….Kidd suggests that to merge body and soul just might enlarge a sense of what it is to be religious and to be married."
—Pittsburgh Post Gazette
"[Kidd's] imagination, originality and command of language never cease. She is simply a profound storyteller."
—The Denver Post
"Kidd draws on her extensive knowledge of theology and mythology in this insightful book about the passions and desires of body and soul. Kidd. . . slowly and carefully unveils her story about the meaning of love, the necessity of risk, and the power of forgiveness."
—Orlando Sentinel
"The steady pulse of Kidd's writing pushes this narrative from heart-throbber to soul-searcher."
—Boston Herald
"Kidd's sparkling imagery in The Mermaid Chair surpasses her efforts in [The Secret Life of] Bees and helps morph a simple story into something approaching myth….What keeps Kidd…flying high is her abiding sense of humor (her characters are really "characters"), an earthbound understanding of the ebb and flow of life, and her studious attention to the great metaphors of life."
—Santa Cruz Sentinel
"This lush follow-up finds Kidd asking even bigger questions with the story of a woman whose life and marriage have grown increasingly stale."
—Breathe
"[An] illuminating investigation of midlife malaise…The Mermaid Chair honors those who conjure up the courage to rediscover and recommit to their life passions."
—The Seattle Times
"No question: Kidd can write."
—The San Diego Union-Tribune
"Those who fell in love with Kidd's first novel will find pleasure here."
—The Oregonian
"It takes a rare and mysterious novel to speak to our souls in so many ways that we return to the book again and again for refreshment and renewal. Sue Monk Kidd created that kind of magic in The Secret Life of Bees, and her new novel promises to have the same effect….