Spanish Language Lessons: Level 2 Beginners Guide To Learning And Speaking The Spanish Language For Everyday Conversation And Better Vocabulary (Paperback)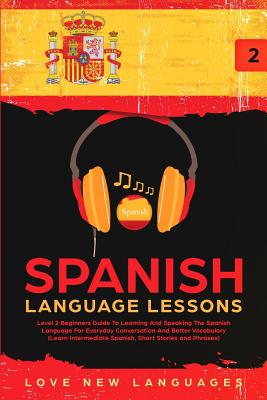 $11.99

Usually Ships in 1-5 Days
Description
---
Spanish Language Lessons: Level 2
Are you interested in expanding your spanish language ability?
Do you want to be comfortable and confident when traveling to a Spanish spoken country?
If so keep reading...
Spanish is the 4th most popular language. Therefor it's a great new language to learn giving you the most opportunity.
Whether you're planning on traveling to Spain or just want to learn another language, this book guides you towards learning a basic to intermediate level of Spanish
Here Is What We Will Guide You Through...
Basic-Intermediate Level Spanish Conversation
Spanish Cognates (Words that are simliar to English words)
Nature And Environment
Health, Health Care and Body
Technology, Computers and Internet
The Beach And Vacations
Foods, Restaurants And Beverages
Bank And Money
Business
Spanish Words That Don't Exist In English
Idiomatic Expressions
Proverbs
Transition Words
Small Real Life Stories
And much much more
Not only will you learn new words in Spanish, but you will also learn how to say them properly through listening to the narrator.
Whether you're in your car, cleaning the house or at the gym. You can plug in and get your brain used to the Spanish language.
You will be speaking Spanish within No Time

Here are just some of the countries that speak Spanish:
Mexico
Spain
Colombia
Argentina
Peru
Venezuela
Chile
Ecuador
Cuba
Bolivia
Honduras
Paraguay
Costa Rica
Panama
Uraguay
Peurto RIco
What are you waiting for? Learn Spanish Today