I Quit Dairy: The fastest & easiest way to go dairy-free (Paperback)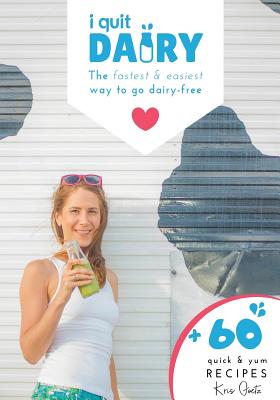 $24.90

Usually Ships in 1-5 Days
Description
---
I Quit Dairy empowers you with short and sharp answers to the 40 most commonly asked questions, 20 practical cheat sheets (incl. shopping & swap guides, cost & time saving hacks) and 60 yummy recipes (all dairy, gluten and sugar free). Get ready for your new quick, yummy and nourishing dairy-free lifestyle without the feeling of missing out.
PANTRY REBOOT: Get introduced to new ingredients in your dairy-free pantry; Learn which products you can keep and which ones you no longer need.
BASICS OF DAIRY-FREE LIFESTYLE: Learn about the benefits of dairy-free living, why dairy isn't the best source of calcium and why being lactose intolerant is normal.
NUTRITION: Learn how to live dairy-free while maintaining a nutrient rich diet.
SHOPPING: Get equipped with a list of our favourite dairy-free products and know how to read labels.
MARKETING: Understand why we believe that dairy is normal, natural and necessary, why it is not and how to make conscious food choices.
GOING OUT: Learn how to handle work functions as well as how to be an awesome guest and host dinner parties that wow your guests.
STAYING ON TRACK: Learn about the extended benefits of a dairy-free life that will make it a lot easier to stay dairy-free.
About the Author:
KRIS GOETZ Once an accident survivor, unable to walk, Kris took her life into her own hands. After trying many methods, she finally healed herself through a combination of dairy-free nutrition, lifestyle changes and mind-set work, and is now living the life of her dreams.Kris Goetz is the CEO/founder of I Quit Dairy, published author and TEDx speaker. During her 15 years of extensive research she has learned from thought leaders such as Dr. Bernard, Dan Buettner and Louise Hay whose guidance helped to cure her chronic headaches, a major hip injury, reverse an auto-immune disease and lose 15kgs.Going dairy-free has totally changed her life. Now she wants to give back. Through I Quit Dairy she is helping others live a healthier lifestyle so that they too can ultimately achieve their goals in life.