Reg Pascoe: The Vet They Called God (Hardcover)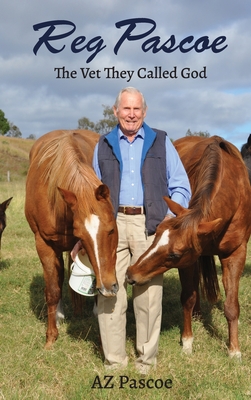 $45.95

Usually Ships in 1-5 Days
Description
---
'Don't look now... but God's in the front row.'
This was a frequent refrain at both Australian and international veterinary conferences for decades. And there Dr Reg Pascoe would be: watching and listening attentively, eyes glinting with wry humour behind his glasses. His brilliant mind and unyielding curiosity made him an international legend. His dedication to education and investigation made him a veterinary pioneer. And his passion and breadth of expertise earnt him a nickname no one gainsaid.
This is the story of how a young man from a poor rural Queensland family became the vet they called God.
On a rocky patch of ground in a small country town called Oakey, Dr Reg Pascoe built an internationally renowned veterinary clinic. From that quiet corner of the country, he served as a cornerstone of the Australian horse industry for over fifty years. His self-driven research illuminated shadowy corners of equine veterinary medicine and his commitment to developing professional veterinary organisations and mentoring junior vets enriched the Australian veterinary profession. But Reg Pascoe was far more than simply a vet.
This biography, rich with tales from those whose lives Reg touched, chronicles the life of a great Australian. Despite the challenges that met him during his journey, Reg never allowed himself to be constrained by his fears or the limitations others might have placed upon him. His life is an example of who we might be if we, too, pursue our dreams with fervour and with a genuine desire to serve those around us.
And how in doing so, we might quietly, generously, and humbly change the world.