My First Summer in the Sierra: Illustrated Edition (Hardcover)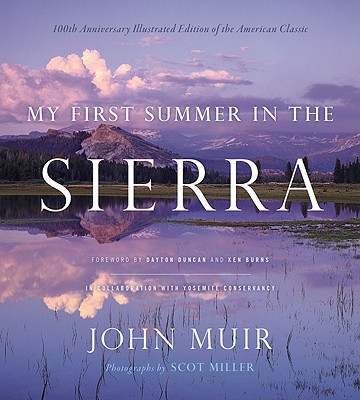 Description
---
From the photographer who brought Thoreau's Walden and Cape Cod to life comes a new work combining classic literature with brand-new photography. This time, Scot Miller takes on the seminal work of John Muir, My First Summer in the Sierra. The book details Muir's first extended trip to the Sierra Nevada in what is now Yosemite National Park, a landscape that entranced him immediately and had a profound effect on his life. The towering waterfalls, natural rock formations, and abundant plant and animal life helped Muir develop his views of the natural world, views that would eventually lead him to push for the creation of the national parks.
My First Summer in the Sierra is illustrated with Miller's stunning photographs, showcasing the dramatic landscape of the High Sierra plus John Muir's illustrations from the original edition and several previously unpublished illustrations from his 1911 manuscript. The publication of My First Summer in the Sierra inspired many to journey there, and this newly illustrated edition will surely inspire many more.
This book is being published in collaboration with Yosemite Conservancy and, for each copy sold, Scot Miller is making a donation to Yosemite Conservancy. My First Summer in the Sierra won the National Outdoor Book Award.
About the Author
---
John Muir (1838-1914) was one of the most influential conservationists and nature writers in American history. He was instrumental in the creation and passage of the National Parks Act, and founder of the Sierra Club, acting as its president until his death. Muir was a spirit so free that all he did to prepare for an expedition was to "throw some tea and bread into an old sack and jump the back fence." 

SCOT MILLER is a professional photographer whose photographs have appeared in numerous books and publications, including Walden: The 150th Anniversary Illustrated Edition of the American Classic and Cape Cod: Illustrated Edition of the American Classic. Miller lives in Dallas, Texas, with his wife, Marilyn, where they operate Sun to Moon Gallery, a fine art photography gallery.