Bury the Chains: Prophets and Rebels in the Fight to Free an Empire's Slaves (Hardcover)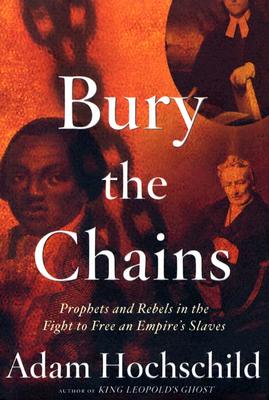 $26.95
Email or call for price
Description
---
From the author of the prize-winning King Leopold's Ghost comes a taut, thrilling account of the first grass-roots human rights campaign, which freed hundreds of thousands of slaves around the world.
In 1787, twelve men gathered in a London printing shop to pursue a seemingly impossible goal: ending slavery in the largest empire on earth. Along the way, they would pioneer most of the tools citizen activists still rely on today, from wall posters and mass mailings to boycotts and lapel pins. This talented group combined a hatred of injustice with uncanny skill in promoting their cause. Within five years, more than 300,000 Britons were refusing to eat the chief slave-grown product, sugar; London's smart set was sporting antislavery badges created by Josiah Wedgwood; and the House of Commons had passed the first law banning the slave trade.
However, the House of Lords, where slavery backers were more powerful, voted down the bill. But the crusade refused to die, fueled by remarkable figures like Olaudah Equiano, a brilliant ex-slave who enthralled audiences throughout the British Isles; John Newton, the former slave ship captain who wrote "Amazing Grace"; Granville Sharp, an eccentric musician and self-taught lawyer; and Thomas Clarkson, a fiery organizer who repeatedly crisscrossed Britain on horseback, devoting his life to the cause. He and his fellow activists brought slavery in the British Empire to an end in the 1830s, long before it died in the United States. The only survivor of the printing shop meeting half a century earlier, Clarkson lived to see the day when a slave whip and chains were formally buried in a Jamaican churchyard.
Like Hochschild's classic King Leopold's Ghost, Bury the Chains abounds in atmosphere, high drama, and nuanced portraits of unsung heroes and colorful villains. Again Hochschild gives a little-celebrated historical watershed its due at last.
Praise For…
---
"Hochschild has crafted a powerfully inspiring tale . . . A chronicle of a rare and radiant victory." Kirkus Reviews, Starred

"A brilliantly told tale, at once horrifying and pleasurable to read." Publishers Weekly, Starred

"Bury the Chains is a vital testament to difficult hope." --Joel Turnipseed Minneapolis Star-Tribune

"A superb account...a witty, wonderfully readable narrative. Grade: A." --Jennifer Reese Entertainment Weekly

"A moral text with the dramatic power of a great epic novel." --Harper Barnes St. Louis Post-Dispatch

"There are few books that that could serve as a required and much-loved text for a high school history class and also a compelling Sunday afternoon read for anyone. This is one of those books." --Debra Bruno The Chicago Sun-Times

"Bury the Chains is by far the most readable and rounded account we have of British anti-slavery." --Robin Blackburn Los Angeles Times

"One quickly runs out of superlatives when praising this book." --Gerard DeGroot Christian Science Monitor

"Terrifically readable...inspiring..." --Charles Matthews San Jose Mercury News

"Hochschild has a knack for vivid portraits, and an eye for arresting detail." --Richard Brookhiser Boston Globe

"Bury the Chains is a thrilling, substantive, and oftentimes raw work of narrative history." --Maureen Corrigan NPR - "Fresh Air"