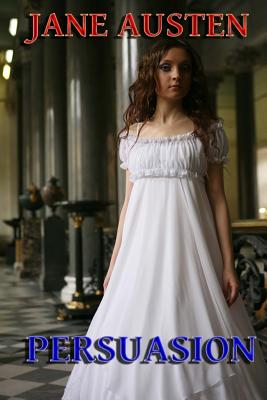 for information about purchasing this book, please contact orders@bookpassage.com
Description
---
Anne Elliot is 27, and unmarried. Years ago, she fell in love with a man named Frederick Wentworth, a handsome young naval officer, but as he was poor, he was considered to be an unsuitable match, and Anne's friend, Lady Russell, convinced her to break the engagement.
But now Anne runs into Frederick again. It's been eight long years, and Frederick is a captain and he's wealthy. He announces that he is ready to marry any suitable young woman who catches his eye. Any woman other than Anne, that is. After all, she rejected him and he refuses to forgive her.
This was Jane Austen's final novel. It was published shortly after her death.
About the Author
---
Jane Austen (1775-1817) wrote romantic novels set among the landed gentry, and won herself a place as one of the favorite and most-read writers in English literature. Scholars and critics appreciate her social commentary and her irony, while normal readers love her for her characters and stories. While her plots tended to be comic, they focused on how women had to depend on marriage to secure social standing and economic security in the late 18th and early 19th centuries.